Exclusive
Dina Manzo Desperate To Control 'RHONJ' Family Drama With Jacqueline Laurita On — And Off — The Screen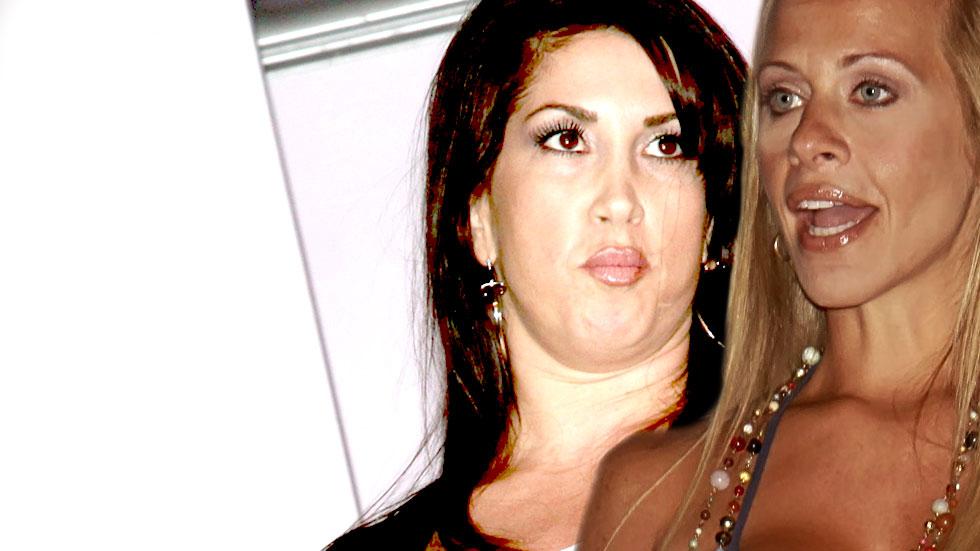 Dina Manzo is in a tizzy as she frantically tries to put out some major family fires.
"Dina is terrified that the truth about all the Manzo drama will come out and she will be seen as a problem rather than this Zen, peaceful person she hopes to appear," a source exclusively tells RadarOnline.com. "She will stop at nothing to ensure that this doesn't happen and that her image is held up."
The 42-year-old Real Housewives of New Jersey star has her work cut out for her — especially with Jacqueline Laurita's return to the show this season.
Article continues below advertisement
As RadarOnline.com reported, Manzo sharpened the knives when she heard her former nemesis was coming back to haunt her, and she immediately made calls to her costars to try to hammer out a pact to never discuss Laurita, 44, in order to make her show storyline irrelevant. In exchange, promised Manzo, she would alert anyone of impending drama.
Too bad Manzo's reality costars weren't so discreet about her issues with them. "Multiple cast members were filmed by the cameras discussing Dina's family problems," dishes the source.
Once Manzo got wind of what was going on, she unleashed her fury. "Dina is threatening Bravo and production to ensure this doesn't air," notes the source, noting that the network allegedly promised Dina that if she came back she would not be forced to face her family and all its drama.
"But with the re-integration of Jacqueline into the show, Dina is fuming, and now she's working extra hard to ensure no footage showing the two of them together airs," continues the source.
Article continues below advertisement
Manzo may have already won the first round in the test of wills with Bravo. The network reportedly took down portions of a very telling interview with Laurita, in which she revealed she has "no relationship" with Manzo.
"She chooses not to have one," blasts Laurita. "It's frustrating because I feel like it's all petty, nonsense stuff, that all just seems silly and unimportant to me. I have other, more important things to focus on, although, I'm always open to reconciliation with people that are willing and sincere."
MORE ON:
Jacqueline Laurita
Laurita then explains that her husband, Chris Laurita, "is probably the most hurt by Dina."
Still, she believes that "maybe one day we can heal as a family like the Gorgas and Giudices did… All it takes is for both parties to want it at the same time and be sincere about wanting it."
The only thing Manzo appears to want is for Laurita — and her reconciliation dreams — to just go away.
According to the source, "Dina called Bravo and pitched a fit," over the interview, "causing them to remove it from their site."
Article continues below advertisement
But leave it to the ladies to milk the drama and issues between them to their advantage. "It could definitely be a potential storyline for next season," insists the source. "The issues between Dina and her family are definitely involved, and would take more than a few episodes to hash out. Dina is making it known that she will quit if Bravo brings back Jacqueline full time, but at the end of the day, she needs money, so she may just agree to it."
But with the reunion special taping the first week of October, Manzo may have more to deal with than just Laurita. "Dina was calling other cast members to attempt to squash any beef from this season since she is afraid of any potential confrontations at the reunion" notes the source. "While cast members have agreed, some are still planning to go at her regardless."