Problem In Paradise! Dina Manzo Brings Up Cheating Rumor To Teresa Aprea During Boozy Getaway, As Jacqueline Laurita Returns To 'RHONJ'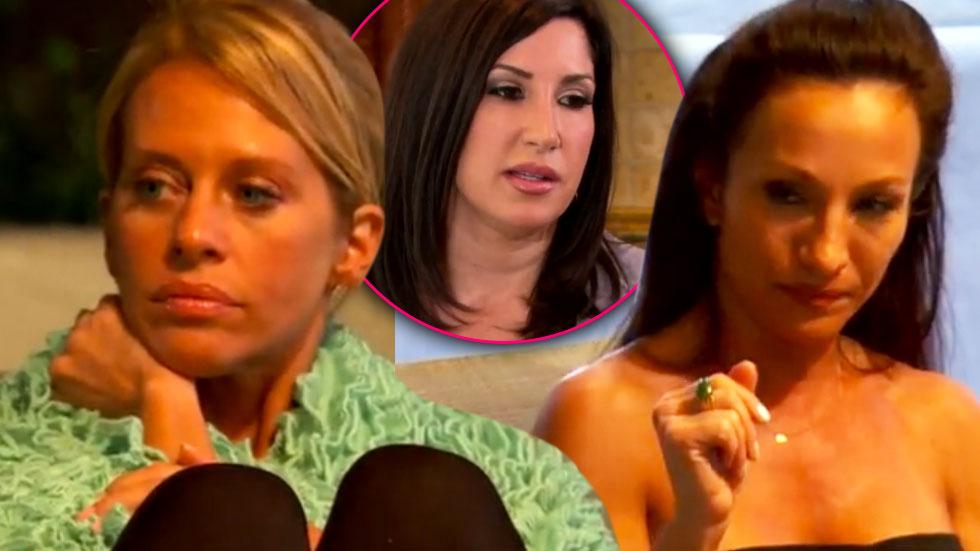 Goodbye chilly Garden State, hello sunny Florida!
On this week's Real Housewives of New Jersey, Dina Manzo, Melissa Gorga, Teresa Aprea and Nicole Napolitano traded in their snow boots and shovels for bathing suits and cocktails as they jetted off to Boca Raton, Florida.
"Shoveling snow, not going to lie, not my thing," Melissa said. "We need to get into the sun … drink please!"
After a day of tanning poolside, trying to get Dina with the hunky waiter and drinking their worries away, the ladies spent the night in with a home-cooked meal and – of course – plenty of wine.
Article continues below advertisement
Nicole responded, "Basically what she said is she heard something and she repeated it. Bottom line is, you don't repeat, that's it."
Nicole then explained how she would want to know about a rumor instead of having her friends hide it from her. Dina couldn't help but worry about the comment, as she was hiding a rumor she heard from Teresa Giudice that Teresa Aprea's husband, Rino, cheated with his wife's mother Santa.
Article continues below advertisement
Dina said in her confessional, "When Nicole says that my heart just sinks. The more we bond, the more it's eating at me that someone is talking about their mother."
After Amber learned that she is cancer-free after an inconclusive test called for more blood work, she called the ladies to inform them that she was on her way to Florida with her husband Jim Marchese.
"I want to be happy that her blood work is fine, but I'm also like holy sh*t," Dina said in her confessional. "I'm really afraid that Amber's going to blurt out what Victoria Gotti has said. She has proved in the past that she would take a rumor and run with it."
Later in the evening, Dina pulled Teresa to the side to talk to her about the rumor.
She began: "Somebody had said something about your family, your situation, and unfortunately it was said in front of Amber … I don't care whether it's true or not, it's not my business. I'm just worried that she has this information."
Teresa responded, "I don't even know what it is … I just am so distrusting of her."
Article continues below advertisement
When Teresa learned that the rumor was not just about her, but about her family as well, she chose not to hear it. This decision infuriated her twin sister.
Teresa explained, "I don't want to know what it is, I really don't. Nicole, you could decide if you want to know or not… This is where me and you differ."
Nicole replied, "I want to know! Anyone that says something about me and my family, oh, I do want to know."
Article continues below advertisement
The text message read: "Thinking of you and your family. I know this is a really challenging time, but I truly believe that you will get through this and you'll be better than ever.
"Regardless of how you truly feel about me, I want you to know that I still care about you and what you and your family are going through. I feel awful that we let things affect the friendship we once had. You were like a sister to me."
Jacqueline then said in her confessional, "I can't imagine what she's going through right now. They have to go through the rest of their life being a convicted felon."
After receiving a text back that just said, "Thank you for thinking of me and my family, kisses," Kathy told her friend, "I think that her response is kind of telling you something. I just think that she's not ready for anything more."
The Real Housewives of New Jersey airs Sundays at 8/7c on Bravo.