Meddlesome Marchese! 'Don't Ask Questions. If I Want To tell You, I'll Tell You!': Teresa Giudice Tells Amber Marchese After Being Hounded For Info About Her Fraud Case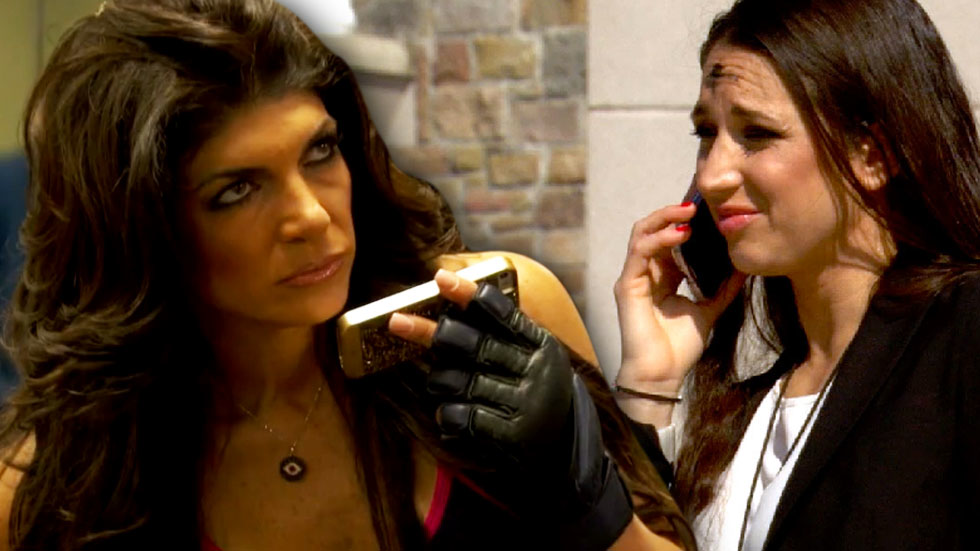 Article continues below advertisement
While driving her four daughters to school, Teresa's oldest child, Gia, told her, "Yesterday I was really proud of you, how you handled the situation. It's not easy, but you stayed strong, and that's a good thing."
A touched Teresa said in her confessional, "Being a mom, you always question yourself like, 'Am I doing a good job?' But hearing what Gia just said reassures that I am doing a good job."
Teresa's brother Joe Gorga, who she famously feuded with for seasons, reached out by saying, "Melissa and I worry so much about Teresa and Joe's situation, and no one knows how a brother feels when a sibling is going through what they're going through, so it's hard to talk about."
When new girl Amber Marchese called while at church with her family, Teresa couldn't help but feel that Amber was just being nosy.
"I'm really, really thinking of you and praying for you and your family and I just wanted to see how you're doing," Amber told Teresa. "I did see the articles from yesterday on what was going on.
"I don't know what's true and what's not true, but how are you feeling?"
Teresa responded, "I hate to say I'm good. We're moms and no matter what, you just got to stay strong for the family."
Article continues below advertisement
"There's only so much we do know, but what do we expect from here?" Amber asked. "What's the next step? Is there anything in question or is it pretty much you're set, we're all good?"
Teresa admitted in her confessional, "I think Amber means well, but as you get older, you learn boundaries and you know when to stop."
As Amber continued to pepper her with questions about her case, Teresa rolled her eyes.
She responded, "Look Amber, I don't like to talk about this.
"When you're asking questions like that, that doesn't make me relaxed, that just gets me a little agitated, cause I can't talk about it and I don't want to be asked about it. Don't ask questions. If I want to tell you, I'll tell you."
Amber sounded off in her confessional about the warning.
"It was like, 'Amber shut up, too many questions. Don't go there.' And it just came out," she said.
Article continues below advertisement
Watch the video on RadarOnline.com:
Teresa then explained that Amber's constant questions made her feel uncomfortable, and that she reminded her of former housewife Jacqueline Laurita (who is expected to return to the show this season).
But Teresa's legal troubles weren't the only issues on Amber's mind. Free of breast cancer for five years, it was time for Amber's six-month check up.
Amber explained, "This is basically a five-year pivotal point in my journey with cancer. If I'm clean and healthy for five years, my prognosis is excellent for the rest of my life. If I have a relapse, the chances of not surviving are very, very big."
When Amber received a phone call from her doctor regarding the tests, she discovered that they were inconclusive, and that she must return to the office for more testing.
"I think that there is something in the tests. I think there is something that he's seeing that he doesn't like and that's not good, you know it," Amber tearfully told her husband Jim Marchese.
He consoled her by saying, "There's a thousand reasons that it could have been inconclusive."
Article continues below advertisement
As the housewives prepared for a trip to Florida, Amber decided to opt out of it due to her health scare, as Teresa's legal troubles forced her to skip the vacation as well.
But before the ladies could embark on their booze-drenched trip, Teresa informed Dina Manzo of the rumor she and Amber heard — from Victoria Gotti — that Rino Aprea slept with wife Teresa Aprea's mother Santa.
"He had an affair with her mother?" asked Dina, after returning from the Aprea's house for dinner. "I just think it's ridiculous. I was just with them. The mother is sweet. It didn't happen."
When Dina asked Teresa if she was going to tell the twins about the rumor, Teresa replied, "I got too much sh*t going on. That's the last thing I want to be tied into. I told you because that's a way for us to see if Amber tells the story any differently than I told you.
"And if she does, then she's one friggin' shady b*tch."
Find out if Amber sticks to her story on next Sunday's Real Housewives of New Jersey, airing at 8/7c on Bravo.