Guilty As Charged! Teresa & Joe Giudice Plead Guilty To Fraud & Tax Evasion Charges On 'RHONJ', While Amber Marchese Continues To Stir Up Drama With Nicole Napolitano & Teresa Aprea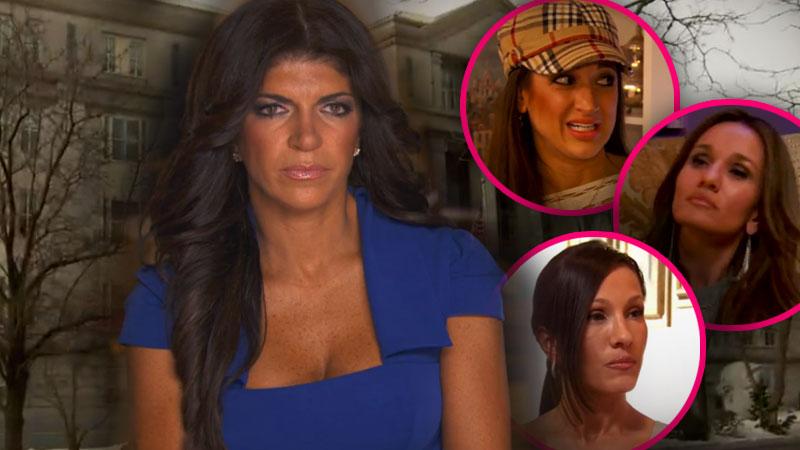 Article continues below advertisement
After Amber read an article on RadarOnline.com that reported Teresa and Joe would plead guilty in an upcoming court appearance, she called Teresa to find out if the article was true.
How did Amber react to the news? Let's just say harder than most people. When a sobbing Amber asked about the report, Teresa and her daughter Gia couldn't help but laugh over Amber's over-the-top reaction to the news.
Teresa said in her confessional, "Wow she's crying, but maybe it was the time of the month or she's been through something traumatic in her life, she's been through the cancer."
After a series of questions regarding the upcoming court appearance, Teresa refused to release any more information.
"The hardest part of being in the public eye is being judged, being scrutinized," Teresa said. "Me personally, I wouldn't pry into someone's business and I wouldn't ask so many questions."
Amber then explained in her confessional, "I can imagine because I went through something similar, but what's better about her situation is it's not like she could be dying at the end of this. It's not like a death sentence."
Article continues below advertisement
After the conversation, Gia told her mother that she is old enough to understand what is going on.
As Gia began to cry, Teresa consoled her by saying, "Things happen in life. And now mommy and daddy have to deal with it the best we know how. I just don't want you and your sisters to be affected by it."
Watch the video on RadarOnline.com:
On the day of the plea deal, Teresa prayed for God to help protect her and her family.
"I know who Joe and I are. We are good people," Teresa said. "In my heart and in my soul I will make sure this is right. Whatever right means."
By taking the deal, Joe could face 37 to 46 months behind bars with the possibility of being deported back to Italy, while Teresa faces 21-27 months in jail.
"I can't believe that this is my life," Teresa said in her confessional.
Watch the video on RadarOnline.com:
Article continues below advertisement
In another storyline, Amber encouraged her husband to make up with his friend of 15 years, Bobby Ciasulli. Amber caused a rift between the friends after spreading a rumor that his girlfriend Nicole Napolitano cheated on her ex husband.
After Bobby decided to ignore Amber's calls and texts, he told Nicole and her sister Teresa Aprea about the messages she sent him.
Teresa Aprea then grabbed his phone and began to read the messages: "Bobby call me, if you don't want to talk at least be a man and say that. Ignoring is a chick thing … Bobby, you are a selfish, narcissistic boy. Jim wants no answer from you because he hates you for what you did."
During a get-together at Dina Manzo's house, Teresa Giudice and Amber stepped to the side, while the other ladies discussed the texts.
Nicole explained to the girls, "She tried calling Bobby and he didn't pick up … and since he didn't pick up the phone, she texted Bobby all these crazy things just like bashing him ... like, what the f*ck?"
Meanwhile, Teresa and Amber discussed whether or not to tell Teresa Aprea about the rumor they heard from Victoria Gotti, that Teresa Aprea's husband Rino slept with her mother Santa.
Article continues below advertisement
"I'm in a good place with Nicole," Amber began. "We're kind of building a friendship a little bit. When I heard that rumor about her infidelity I said something to Melissa versus saying something right away to Nicole. That caused a lot of problems and I feel like I've learned my lesson on that."
Teresa responded by saying, "I have my own sh*t going on."
"Then you're on my page then? Just shut up and move on," Amber said.
The Real Housewives of New Jersey airs Sundays at 8/7c.