Exclusive
Convicted Felon Teresa Giudice Watched 'Orange Is The New Black' - Now Fears She 'Will Die If Sent To Prison!'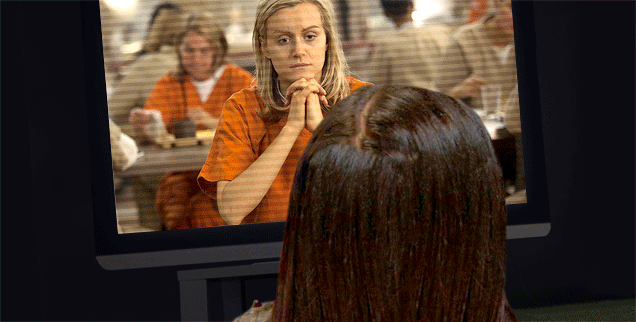 Real Housewives of New Jersey convicted felon Teresa Giudice decided to watch Orange Is The New Black to learn what she might be facing if the reality star is sent to prison, but could only watch one episode and fears she will die if is sent to a correctional facility, RadarOnline.com is exclusively reporting.
Giudice could be facing 27 months in prison, while her husband Joe could get 46 months hard time after pleading guilty to 9 counts of mail, wire, bank and bankruptcy fraud in March.
Article continues below advertisement
"Teresa's friends told her to watch Orange Is The New Black because it deals with a woman being sent to federal prison. At first it seemed like a great idea, and Teresa really laughed for the first several minutes but when the main character actually turns herself in to begin serving the prison sentence, Teresa lost it. She abruptly turned it off, and dissolved into a fit of tears. She actually had to take anti-anxiety medication to calm down," a source told RadarOnline.com.
Article continues below advertisement
"Teresa has hardly any income coming in because of her guilty plea in the federal fraud and conspiracy case," a source previously told RadarOnline.com. "If it weren't for the money she's made from Real Housewives of New Jersey, she would be in serious financial trouble right now."
READ: The Jaw-Dropping List Of The Giudices' Debts
"Her book sales have been very low, and Teresa hasn't been offered any gigs for paid promotional appearances either," the source continued. "It's a foregone conclusion, Teresa absolutely will have to sell her beloved New Jersey mansion. She's terrified she could end up homeless."
The luxe-living reality TV will only be ordered to pay back $7,500 of the shocking $13 million debt they cited in a 2009 bankruptcy filing, and their creditors are angry about being stiffed.
"We just want the money she owes us," an employee of the North Hudson IVF fertility clinic, one of the Giudices' creditors, told RadarOnline.com exclusively. Teresa, 41, was rumored to have undergone fertility treatments there in order to conceive youngest daughter Audriana, 4.
The Giudices owe the clinic $11,765.59 for their services, and the employee says the couple's refusal to pay is simply unfair, insisting, "We're just a company that helps people."
Our source says, "Teresa is praying she will get probation, or house arrest...there is no way she will survive being put behind bars away from her four daughters. She is trying to put on a brave face for the kids, but it's very hard to do."