Exclusive
How To Lose A Life: 'Real Fraudwife' Teresa Giudice Could Be Forced To Surrender Her Homes, Luxury Cars & Future Earnings In Fraud Case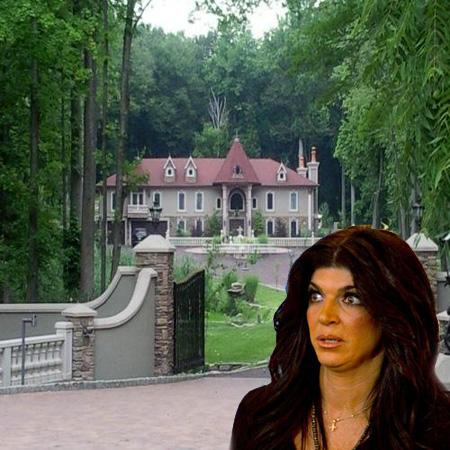 They're watching her like a Housewives hawk!
RadarOnline.com has learned that law enforcement authorities are said to be keeping a close eye on "Real Fraudwife" Teresa Guidice and have threatened to take away all her worldly possessions, as she waits to learn whether she will be sent behind bars on federal fraud charges.
Of particular concern, said one source, was the mother-of-four being caught on camera charging fans for autographs and photographs and insisting on cash only!
Article continues below advertisement
"The judge and the prosecutor are aware that Teresa could still be trying to hide money," a source close to the case revealed.
"That isn't going to go over well at her sentencing, for her."
Giudice held a book signing on March 19 at The Posche Spring Soiree in Garfield, N.J.— and in exclusive video footage obtained by RadarOnline.com, the Real Housewives of New Jersey star was seen charging CASH ONLY — with no receipts — for her book and signature.
"Teresa was advertised as the the celebrity guest and that she would be signing copies of her latest book. But nowhere was it advertised that she would be charging guests $25 to sign and take a photo with her," one guest told Radar.
"When you walked up to her, the woman next to her was quick to advise that it was $25 and 'cash only.' Cash only? Who takes cash only? Even Teresa was telling guests it was 'cash only, no receipts' and she had bags of cash beside her where her colleague was collecting the money."
Said a law enforcement spy: "It certainly raises red flags."
In March, the Bravolebrity and her husband, Joe Giudice, were ordered to return to court on July 8 when US District Court Judge Esther Salas will hand down their punishment.
The pair pleaded guilty to several counts including bankruptcy fraud, conspiracy to commit mail fraud and wire fraud, and failing to pay taxes.
"The feds are threatening to take Joe and Teresa's homes, cars and future earnings, all to pay the settlement if she can't come up with the money," said the insider. "If she continues to flout the law in their faces, things could get worse for her... before they get better!"