Exclusive
Living In Denial! Teresa & Joe Giudice Continue To Spend Lavishly As Possible Jail Time Looms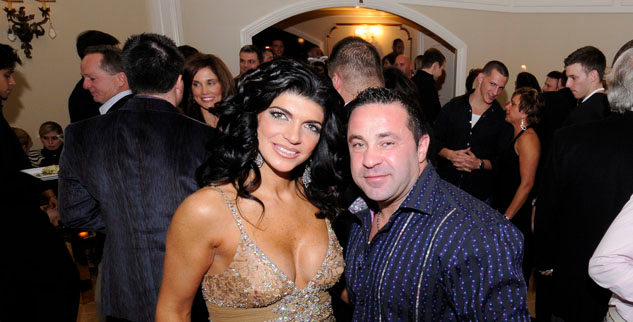 Teresa Giudice and her husband Joe are both facing possible jail time after pleading guilty to felony tax fraud charges, but a source close to the reality couple has told RadarOnline.com that they're still living their lavish lifestyle in "denial."
The legally challenged The Real Housewives of New Jersey stars must pay the government hundreds of thousands of dollars as part of their plea bargain but that isn't slowing down their spending.
Article continues below advertisement
"Teresa and Joe are completely in denial," the source told Radar.
"They still live in their house that nobody thinks they can afford, they're driving leased cars and they still shop and go out places."
As Radar previously reported, at Teresa's last book signing she was only allowing sales via cash and wasn't giving the customers receipts.
"That isn't a surprise at all. Teresa and Joe have spent years defrauding the government and they don't know how to stop living so extravagantly now," the source said.
Shockingly, another source told Radar that Teresa spent hundreds of dollars getting her hair and makeup done for the event, a significant expense for the financially troubled reality star. 
"Every penny that Teresa makes from her shows, books and her hair care product line has always been spent and even now people are worried that she's still not saving. Both she and Joe are refusing to admit that things could be really bad for their family."