Exclusive
Inside The Posh Prison Where 'RHONJ' Star Teresa Giudice Could Serve Time For Fraud Indictment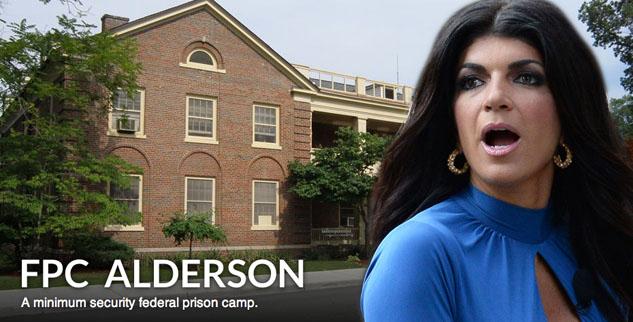 Article continues below advertisement
If convicted, prisoners are typically placed in lockups within 500 miles of their home, which the Alderson, WV prison would be approximately 486 miles from the Giudice's Towaco, NJ, home.
According to the prison's website, the commissary list includes everything from makeup like eye shadow and liquid foundation to scissors and razors.
There is no barbed wire or fences enclosing the 95-acre prison grounds.
GALLERY: The Giudice's 30 Most Shocking Quotes About Fraud & Finances
An 83-page prison handbook states that staff members are encouraged in "providing a safe and humane environment built on the premise of mutual respect and concern for human dignity. It has always been the mission of FPC Alderson to provide opportunities through work, education, recreation, and other self-improvement programs to help you prepare for a successful return to the community. It is your responsibility to contribute to a positive atmosphere and to abide by the rules and regulations of the institution. You are encouraged to use your time at FPC Alderson as an opportunity to prepare for a better tomorrow."
Article continues below advertisement
Alderson was opened as the first federal prison for women in 1927 and houses approximately 1,055 female prisoners.
Each prison cell bunks two inmates with a bunk bed, desk, chair and locker.
If Giudice is given time in prison, she will work seven and a half hours per day, five days a week, for 12 to 40 cents an hour — the jobs include things like maintenance work, landscaping and food service.
The prison is so low-security, that it's even been nicknamed Camp Cupcake.
Although according to a sociology professor who has visited and written extensively on Alderson, Esther Heffernan, "Through the years Alderson has housed relatives of famous mobsters and grandmotherly women who embezzled money from banks. You've had a real mixture."
Interestingly, Giudice could also serve time at the Federal Correction Institute in Danbury, Conn., which is also the same facility that inspired Netflix's wildly popular Orange Is The New Black series.