'You Are A Downright Liar!' Amber Yells At Melissa Over Nicole Rumor, As Joe & Jim Continue To Battle It Out On 'RHONJ'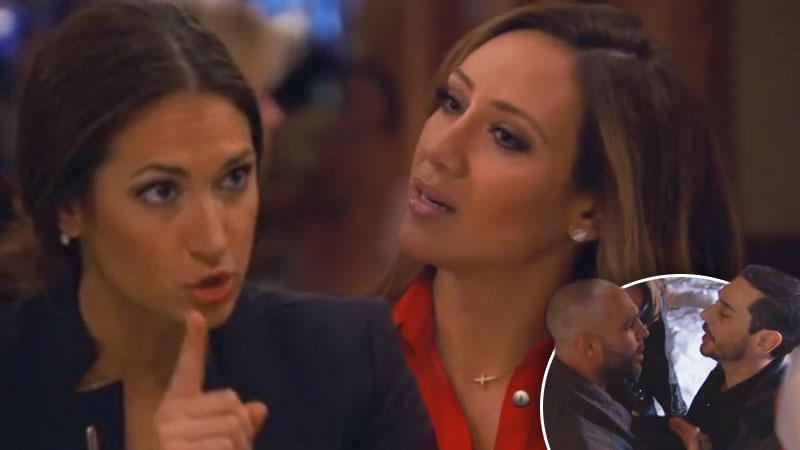 Although the Real Housewives of New Jersey ratings continue to drop, drama remains at an all-time high between the ladies from the Garden State.
Sunday night's episode picked up right where last week's left off, with Joe Gorga and Jim Marchese going at it in response to Jim's reluctance to hang out with Joe Giudice because of his legal troubles.
"Just a year ago, Joe and I wanted to kill each other," Joe Gorga said in his confessional. "I backed up Joe because he's my brother-in-law.
Article continues below advertisement
"I love Joe Giudice."
After Jim called Joe Gorga a dumb f*ck in his ear, Joe ran outside to continue the altercation.
He went face-to-face with Jim and said, "I just want an apology."
Jim replied, "Can you please stop spitting in my face? Why don't you take two steps back and give me my personal space."
Joe Gorga fired back, "You can't shine my shoes buddy — apologize to me!"
Jim then threatened to have him arrested, sued and put in jail if he touched him.
After Joe Gorga's friends and family finally talked him into going inside, Jim then said in his confessional, "I don't fight. I'm trained as an attorney. If I want to hurt you, I'm going to sue you.
"I'm going to bleed you dry financially and I'm going to humiliate you and make you my b*tch."
When Jim and Amber Marchese were forced to re-enter the house to retrieve their keys, Teresa Giudice took them aside to speak with them.
Article continues below advertisement
"I heard from the twins that you didn't want to be associated with my husband," she said.
Jim responded, "What I said was I don't want to put your family in danger. In a situation where there's drinking and where there's one-on-one contact where God forbid something could go in a bad direction."
After a confused Teresa asked if he thought a fight would happen during boys' night out, Jim explained that he is president of a bank that prosecutes mortgage fraud.
Still dumbfounded, Dina Manzo intervened and asked, "Is it a negative towards Joe?"
Jim replied, "Does anyone here have an IQ above 12? Let's spell it out for everyone. What is Joe being prosecuted of? Mortgage bank fraud. What do I do? Mortgage bank fraud prosecution."
An annoyed Dina responded, "You have a very condescending way of talking to people — we're trying to understand the situation."
Jim then raised his voice and said, "I explained it three times, what don't you friggin' understand?!"
Article continues below advertisement
Dina ended the conversation by saying, "You are her bitch! Shove it up his a** Amber!"
Watch the video on RadarOnline.com:
Later in the episode, Amber invited Teresa and Dina to a spa where they got nightingale-dropping facials. Unaware of the odd (and gross!) facial at the time, the ladies discussed the drama that unfolded at the first responder party.
"I have sympathy for Amber because regardless of what she did, the twins should have never put their hands on her," Teresa said in her confessional, referring to the physical altercation that occurred after Nicole Napolitano discovered Amber spread a rumor that she had broken up a marriage.
Amber began the discussion by saying, "Jim feels very badly that he was a little abrasive to you girls. He probably should've handled you guys a little bit better."
Teresa responded, "I don't want to hear it. Whatever I'm going through, I'm going through it with my husband so I don't like anybody at all to mention it. To me it's crossing the line."
Amber said, "He wanted you to know that he respects your family. People are also just attacking him too so I think he was just very defensive."
Article continues below advertisement
Despite Dina's comments about Jim during the party, she told Amber that she accepts his apology.
Amber then discussed Melissa's involvement with the fight.
"I'm really hurt by Melissa right now," she said. "I did hear this information about Nicole. I told Melissa behind closed doors. Was I wrong? Yes. The fact that she told them, I don't get why."
Dina replied, "She stirs up some sh*t and then walks away with half a smirk on her face."
Teresa then explained how her and Melissa were friends in the beginning of Melissa's relationship with her brother. Once they got married, she began acting cold towards Teresa. Regardless, Teresa told Amber to try to work it out with Melissa just like she did.
In an attempt to patch things up with her former best friend, Amber met up with Melissa to discuss everything that happened.
"I will never speak to those girls again," Amber began. "Once you cross that line and get physical, it's done."
Article continues below advertisement
"As an onlooker, you brought the aggression," Melissa replied. "You came up very violent. Why are you so defensive?"
Amber said, "I told you something in confidence. And I said to you, 'People are saying things about Nicole ... this is what I've been hearing.'"
When Melissa told Amber that she never said that, Amber yelled, "You are a downright liar on that!"
Melissa replied, "I haven't shown anyone that I'm a liar. You have — I don't trust you."
"She's not taking ownership of anything," Amber said in her confessional. "She's not going to be apologetic of anything... She creates the problems, but then says she didn't have anything to do with it.
"She puts her hands up in the air. "
Watch the video on RadarOnline.com:
Watch the Real Housewives Of New Jersey drama unfold Sundays on Bravo at 8/7c.