'RHONJ' Recap: 'I Wrote You Off As A Cold-Hearted B*tch,' Amber Marchese Tells Melissa Gorga As The Newbie Starts Trouble With Housewives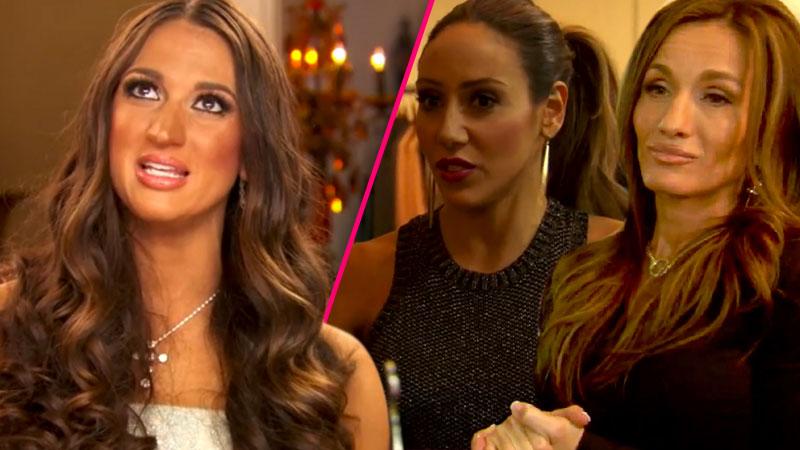 Amber Marchese may be the newest cast member of the Real Housewives of New Jersey, but she's already bringing the table-flipping drama to the Garden State!
Tensions flared on Sunday night's episode, as Amber's gossip and grudges forced tension between her and the other housewives.
When Melissa Gorga asked if Nicole Napolitano had a good marriage before her divorce, Amber replied, "There was cheating going on. But what I heard is that it was Nicole that broke up a family."
Article continues below advertisement
During another outing with Melissa, Amber brought up – again – how Melissa wasn't there for her when she had breast cancer.
"It never even crossed my mind that you may have not known," Amber told Melissa. "I wrote you off as a cold-hearted b*tch to be honest with you."
A shocked Melissa replied, "You haven't called me and I haven't called you. I just feel like I'm not here to nitpick you and I hope it's vice-versa."
Melissa then said in her confessional, "I know now and I'm here now. Like, what's so difficult? There is nothing more to say about it."
Meanwhile, Amber's husband, Jim, stirred up some drama of his own. When asked by Nicole's boyfriend, Bobby, to go on a boys' night out, Jim refused once he heard that Teresa Giudice's husband, Joe, would be there.
"I can't do it … I run a mortgage bank," Jim said. "Joe has actually been indicted with mortgage fraud. I can't be in the same room — there is no way."
Article continues below advertisement
During their night out, Bobby was asked about Jim's absence. In an effort to avoid drama between his good friend and the legally-troubled reality star, Bobby blamed it on Jim not wanting to be involved in Joe and Joe Gorga's past feud.
Joe Gorga responded, "He's a f*cking prick … I'm a little offended because I'm a straight up good clean-cut guy.
"You would want to hang out with me — it's an honor."
When Melissa, Nicole and Teresa Aprea went shopping, the twins told Melissa what Jim said about her husband and brother-in-law.
"He needs to shut up and know his role because Joe Giudice is going through a really hard time right now," Melissa said. "He needs to have a little respect because he doesn't know my husband and doesn't know Joe Giudice."
She then said in the confessional, "Amber is the one who reached out to reconnect with me and now I find out her husband's talking sh*t about my family. What is going on here?"
Melissa then told the twins the rumor Amber spread about Nicole.
Article continues below advertisement
An enraged Nicole responded, "I don't even know where she's getting it from. She pulled it out of her fat *ss!"
Nicole continued, "I am devastated because Amber knows that there have been people in my life that have hurt me — I can't stand homewreckers!"
The twins promptly left the store and drove to Amber's house to confront her. After realizing that Amber's children were home, they decided to wait until an upcoming party to argue with the housewife.
"It isn't over. I'm going to settle this once and for all," Nicole said.
In another storyline, Teresa went to Dina Manzo's home to speak with a medium about her legal troubles.
Medium James Van Praagh told Teresa, "I think it will work out fine for you… It doesn't mean you're in jail, I don't see that."
"Why did you just say for me?" The housewife asked.
He replied, "Your husband I'm not sure about. I don't know if he's going to get off with those charges. He's definitely going to pay some time... I don't see him out in the clear completely."
A teary-eyed Teresa then responded, "I try not to think about the negative stuff because if I think about it, it brings me down."
The Real Housewives of New Jersey airs Sundays on Bravo at 8/7c.
Watch the video on RadarOnline.com: