Low Blow! Teresa Giudice Attacked By New Castmate Amber Marchesa Over Legal Woes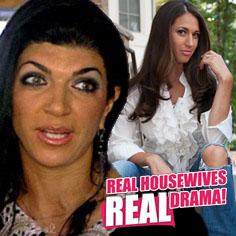 Amber Marchesa and her husband James have achieved the unthinkable: making Teresa Guidice a sympathetic figure.
A show insider tells RadarOnline.com exclusively that the new cast member went on the attack against both Teresa and her husband Joe -- in front of the rest of the cast -- for their well-documented string of legal and financial problems.
"All of the cast members have been really respectful of Teresa and Joe and the girls" in their current situation, the insider said, "but they went there."
Article continues below advertisement
"Amber's husband owns a mortgage company and they are trying to make a name for themselves and nothing is off limits including Teresa's legal woes," the insider said. "The Marcheses feel that they are too classy for the rest of the cast members and don't like being associated with criminals."
The couple's above-it-all attitude has alienated them from many of their castmates, the insider said, though that's of little consequence to them, if it improves their visibility.
MORE ON:
Celebrity Justice
Article continues below advertisement
"Amber will do anything to grab attention -- she has fought with every single cast member and now her husband is getting in on it. She went after Melissa Gorga first and now has moved onto Teresa. She knows going after the two main housewives will get her the most camera time."
"They try to play it off like they are too good for everyone, but they are the couple with the most issues."
While Teresa's never been known as a wallflower, the barrage of under-the-belt jabs left her pride wounded, as she focused to keep her cool.
"Teresa looked nervous and subdued when the topic of conversation turned to her legal drama: She tried to downplay the whole scene and not make it an issue while the cameras were rolling," said the insider. "Teresa knows that people will try to use her legal woes to create drama and make a name for themselves.
"She's desperately trying to keep control over how her pending legal trouble is portrayed on the show and thought that everyone would respect her and not discuss the legal drama."
Further adding to the mounting tension, it appears that Amber and her husband are putting the badmouth on the Guidices -- and others -- whether they're there or not.
"Amber has been trash talking Teresa on camera but behind her back and she's going to be shocked when she finds out all the bad things Amber has been saying about her and Juicy Joe behind their backs."