Living It Up! Teresa Giudice and Her 'Honey' Juicy Joe Have Date Night At Pink Concert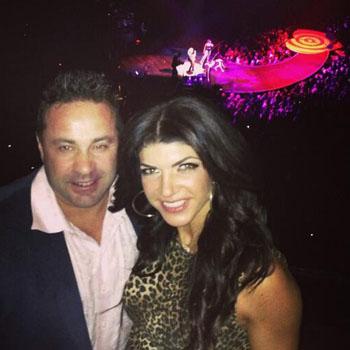 Teresa Giudice and her husband Juicy Joe aren't letting their impending trial prevent them from having a little fun.
The Real Housewives of New Jersey stars, who are facing a whopping 41 felony charges for tax evasion and fraud, left their legal troubles at home and were all smiles as they caught Pink's The Truth About Love Tour at the Prudential Center in Newark.
Teresa, in true Housewives style, rocked a leopard print dress and blown-out hair, posting a photo with Joe, captioned: "At Pink concert with my honey and friends."
Article continues below advertisement
GALLERY: The Giudice's 30 Most Shocking Quotes About Fraud & Finances
Per a court order, the Giudices aren't allowed to leave the states of New Jersey or New York without special permission from the judge, which they didn't need for the local concert.
Showing no signs of the pair's legal woes, the cookbook author admitted during the show that she envied the singer's toned bod.
"Love your abs.. I want mine like yours," Teresa tweeted to the "Just Give Me A Reason" singer.