'RHONJ' Star Teresa Giudice And Husband Joe Indicted On Financial Fraud, Facing 50 Years in Prison!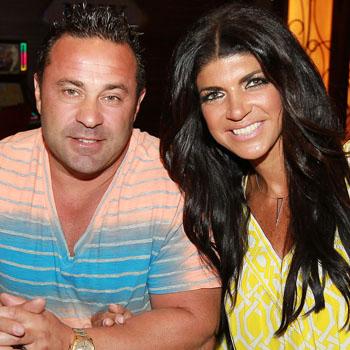 The usual RHONJ drama pales in comparison to the latest news concerning Teresa Giudice: The Real Housewives of New Jersey star and her husband Joe were charged Monday with a number of serious instances of financial fraud. If convicted, they could each serve more than 50 years in prison.
"The indictment returned today alleges the Guidices lied to the bankruptcy court, to the IRS and to a number of banks," Fishman said. "Everyone has an obligation to tell the truth when dealing with the courts, paying their taxes and applying for loans or mortgages. That's reality."
Article continues below advertisement
Among the charges of the 39-count indictment are conspiracy to commit mail and wire fraud, bank fraud, lying on loan applications and bankruptcy fraud. Joe is also being charged with failure to file tax returns for 2004 through 2008.
On loan applications, Teresa and Joe allegedly made up fake jobs and salaries to get larger loans. They also allegedly used fake documents in a conspiracy to get mortgages and loans they did not deserve.
In one instance, Teresa claimed to be an executive assistant to get a loan for $121,500, and even submitted fake W-2 forms and fake pay stubs.
As for her real job with Bravo, she allegedly concealed her earnings from RHONJ during bankruptcy proceedings. The government was alerted to potential problems with her filing back in 2010, as RadarOnline.com reported. Around the same time, Teresa admitted that the couple were $11 million in debt.
Article continues below advertisement
The potential punishments for their actions are as follows: Up to 20 years in prison and $250,000 fine for mail and wire fraud, up to 30 years in prison and $1 million fine for bank fraud, up to five years in prison and a $250,000 fine for bankruptcy fraud, and failure to file tax returns nets up to one year and $100,000 fine for each year.
"The privilege of living well in the United States carries certain real responsibilities, including filing tax returns when required and paying the correct amount of tax," Shantelle P. Kitchen, Special Agent in Charge, IRS-Criminal Investigation, Newark Field Office, added.
"Today's indictment alleges the Giudices did not live up to their responsibilities by failing to file tax returns, falsifying loan applications and concealing assets in their bankruptcy petition. The reality is that this type of criminal conduct will not go undetected and individuals who engage in this type of financial fraud should know they will be held accountable."
Joe is currently facing trial in yet another fraud case, after assuming his brother's identity to obtain a driver's license after his was suspended.
Teresa's attorney said that she will plead "not guilty" and she released a statement about the situation.
"Today is a most difficult day for our family," Teresa said.
"I support Joe and, as a wonderful husband and father, I know he wants only the best for our lovely daughters and me. I am committed to my family and intend to maintain our lives in the best way possible, which includes continuing my career. As a result, I am hopeful that we will resolve this matter with the Government as quickly as possible."