Exclusive
What Legal Woes? Teresa and Joe Giudice Remain Upbeat And Happy At Charity Event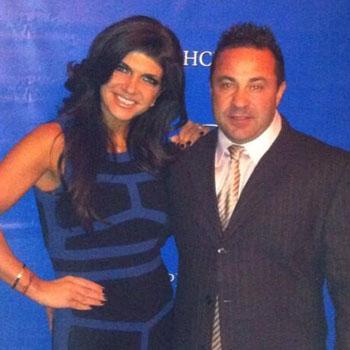 Article continues below advertisement
The pair pleaded not guilty to the latest fraud charges against them in federal court in Newark, N.J., on Wednesday.
"I'm doing well and thank everyone for their prayers and tweets. It means a lot," she exclusively told RadarOnline.com at the event.
"But right now, my focus is on this charity," she added.
Teresa's involvement with The NephCure Foundation, a kidney disease non-profit, stems from her support for Matthew Levine of Long Island, who was diagnosed with Focal Segmental Glomerulosclerosis at age 3. She met Matthew through his parents, Dana and Michael Levine while at an Eric Trump Golf Event. Through her accomplishments on The Celebrity Apprentice, she won $60,000 for NephCure.
"I'll be here for life until we find a cure," she said.
Starting to tear up, she added: "This charity is really dear to me. Matthew touched my heart, and I want to help that little boy. I get emotional because Matthew is the same age as my children, and I can't even imagine. I'll be supporting this cause the rest of my life."
GALLERY: The Giudice's 30 Most Shocking Quotes About Fraud & Finances
As Radaronline.com reported, the controversial couple was slapped with two additional fraud charges of bank fraud and loan application fraud on Monday.
Originally indicted on 39 counts on July 29, the ante was upped to 41 counts with the new charges stemming from a $361,250 mortgage loan that Teresa obtained in 2005 in which Joe allegedly falsely stated that Teresa was employed as a realtor with a monthly salary of $15,000.
Each of the new charges carry a maximum penalty of 30 years in prison and a $1 million fine.
The Giudice's trial is set to start in February of 2014.