Exclusive
New 'RHONJ' Star Amber Marchese Under Fire: 'She's Trying Too Hard To Be Famous'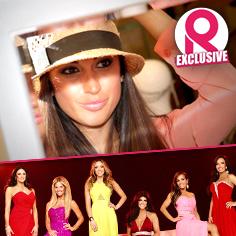 New Housewives, new drama!
As the new season of the Real Housewives of New Jersey is set to premier, RadarOnline.com has exclusively learned that the women had a contentious relationship with one of the new cast members and the controversies got heated.
Amber Marchese is one of three new ladies to the Bravo franchise but it's her motives for joining the show are already under fire.
"She is trying too hard to be famous," a show insider told Radar.
Article continues below advertisement
"She desperately wants to be an actress like Heather Dubrow or NeNe Leakes and the other women felt like she spent the season pretending to be someone she is not."
Radar uncovered videos of two acting roles Marchese has had in the past, a Mortgages NOW commercial and Galaxy Toyota's "Mirror Mirror" spot.
"Amber really is hoping this show will make her a name and she started filming acting like Teresa or Melissa, like she had been around forever," the source told Radar.
"She's probably going to say that she is 'just being a character' and that's not her real life on the show, which is totally fake."
According to the source, "just being a character" is a big red flag on the series.
"Bravo executives hate when the women say they're not being themselves. They still want them to act like this is a 'reality' show so if she tries to pull that after all the filming is done they're not going to be happy with her."
Article continues below advertisement
The source also told Radar that "acting" by Marchese is a big worry.
"Her biggest acting gig to date is landing on the RHONJ. Even in the previews she looks like she is acting. It's so fake."
The Real Housewives of New Jersey airs on Bravo on July 13.
(function(d, s, id) { var js, fjs = d.getElementsByTagName(s)0; if (d.getElementById(id)) return; js = d.createElement(s); js.id = id; js.src = "//connect.facebook.net/en_US/all.js#xfbml=1"; fjs.parentNode.insertBefore(js, fjs); }(document, 'script', 'facebook-jssdk'));