Exclusive
The Family Feud Continues! Teresa Giudice & Melissa Gorga Faking Friendship For Cameras, Claims Source: 'They Only Talk When Filming'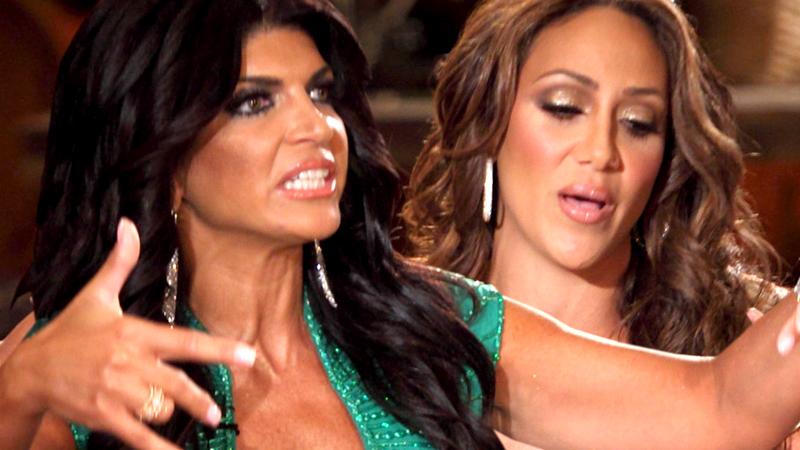 After years of very public squabbling, Melissa Gorga and Teresa Giudice seemed to have put their differences behind them as Giudice faces sentencing in her fraud case. "Everything is great between us," Melissa recently insisted while doing press for the upcoming season of Real Housewives of New Jersey. But RadarOnline.com has learned that their happy family façade is all an act! According to an insider, the duo are just as icy as ever, and won't be reconciling for real any time soon.
Article continues below advertisement
"Teresa and Melissa aren't friends, not even close," an insider revealed. "The only time they talk to each other or interact is when filming Housewives, or promoting it."
But after airing their grievances on TV for many seasons, why make nice now? Said the source, "They both decided the arguing on camera had to stop because it made them both look really bad."
And it's not just a female fight. "Teresa's relationship with her brother Joe, Melissa's husband, isn't much better," the source said. "Although they do talk and text each other on the telephone, Joe isn't happy with the way Melissa was treated by Teresa in the past, and just can't forget it."
According to the source, Melissa also has an issue with Teresa's children, being filmed dealing with the prospect of both their parents being sent to prison because of their guilty pleas in the fraud and bankruptcy case.
"It's very upsetting to Melissa that her eldest niece, Gia, is being shown in commercials for the show, crying," the source said. "This is obviously a very difficult time for Teresa and her husband, Joe but Melissa would never allow her children to be filmed or exploited if she were in Teresa's situation."
But a source close to Teresa said such criticism is "simply because of jealousy. The other cast members are just jealous that Teresa has such a huge storyline this season, and the show would be nothing without her!"
Do you agree? Let us know in the comments!