'Me Without You Doesn't Work': Jail-Bound Teresa Giudice Shares Tears With Daughter On 'Real Housewives Of New Jersey,' Tells Husband 'This Family Cannot Function Without You'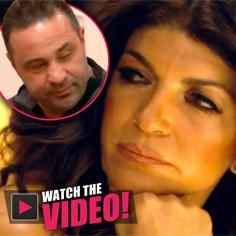 Article continues below advertisement
With their punishment set to come down in July, however, the show had to deal with the controversy.
And, as the RHONJ clip to promote the July 13 season six premiere shows, the Giudices, both 42, are handling things in their usual emotional way!
Viewers will see Teresa telling her husband, who faces up to 46 months in prison and possible deportation, "Me without you doesn't work. This family cannot function without you."
Then their oldest daughter Gia, 13, cries hysterically and hugs Juicy, saying, "I love you so much!"
But Teresa could also get jail time, and she consults clairvoyant James Van Praagh for clues on what the future holds for her and Joe in their legal nightmare.
But that's not all! While Caroline Manzo has left the show, her sister Dina Manzo has returned to RHONJ and is in the thick of the drama, as is new cast member Amber Marchese.
Article continues below advertisement
In fact, Amber's husband Jim works for a mortgage company that is "working with the prosecutor that is prosecuting Mr.Guidice. It's a very touchy situation," he told the cameras.
Dina comments in the clip, "Amber's husband Jim seems f*cking nuts."
Amber herself is also stirring the pot, as she gossips that Melissa Gorga's husband, Joe Gorga, was engaged to someone else before marrying Melissa.
Teresa and Kathy Wakile seem up to their feuding ways, as Teresa decides to start a dessert line, coming into conflict with her cannoli queen cousin!
And Wakile's sister, fan favorite Rosie Pierri reveals she's lost 30 pounds by working out every day.
But with season six already in the can, the big question is, will RHONJ's alpha couple be heading to prison just days after the premiere?
Tune in to the RHOJ season six premiere on Sunday, July 13 on Bravo.