Catfight! Nicole Napolitano And Teresa Aprea Rip Out Amber Marchese's Hair, While Jim Marchese And Joe Gorga Butt Heads During Drama-Packed Bash On 'RHONJ'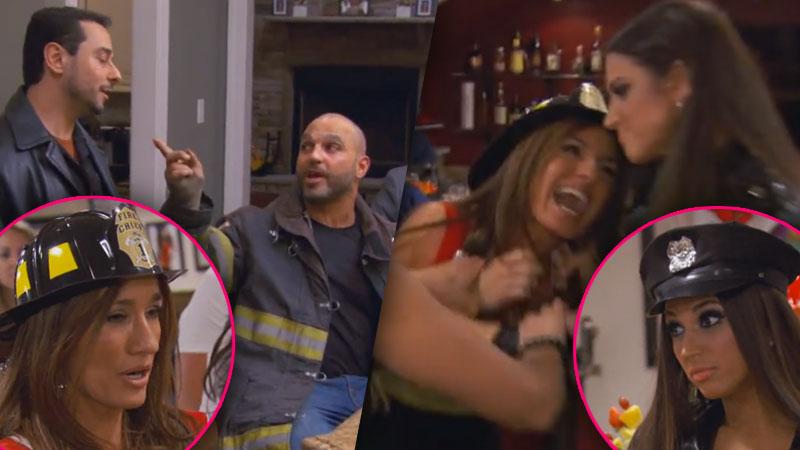 Article continues below advertisement
The episode kicked off with Melissa Gorga telling her husband that Jim did not attend boys' night out because since his mortgage company works with fraud cases, he can't be in the same room with Joe Giudice.
Joe responded, "I don't like these people talking about my family — it's disgusting, I don't know how they sleep at night."
Melissa said in her confessional, "In my 20s I had a lot of fun with Amber, but they say when you marry someone you start to become like them. I feel like Jim feels like he's too good for everyone. I just don't know if I need this in my life."
Teresa Giudice, Melissa, Teresa Aprea and Nicole went shopping to find costumes for the party, which is in honor of Bobby's career as a fireman.
"I do love dressing up," said Melissa. "That's my green light that I get to be all of the fun things that moms shouldn't be!"
During the outing, Melissa told Teresa Giudice the real reason Jim didn't go out with the men.
Teresa responded, "I really don't know Jim, but the fact that he is judging me or my family, that does hurt. You shouldn't judge someone unless you really know them."
Article continues below advertisement
While on their way to the party, Joe Gorga continued his disdain for Amber's husband: "Jim doesn't want to hang out with Joe because of his legal issues. But that's a sh*t thing to do. You don't kick a guy when he's down."
Joe Giudice, on the other hand, couldn't care less about the situation.
"Who gives a f*ck what anyone says? You think I care? We're all over the f*cking news," he said.
Before guests arrived, Bobby and Nicole toasted to a fun party, as Bobby added, "Drama-free of course."
That hope was quickly dismissed when Amber arrived to the party and received the cold shoulder from Teresa Aprea.
She then confronted Nicole, with the twin responding, "You owe me an apology for talking behind my back that I'm a hoe and I broke up all these marriages."
Melissa intervened, saying, "She never called you a hoe."
When Amber discovered that Melissa was the one who told Nicole, she said, "The two of you, let's go," snapping her fingers as she pointed away from the crowd.
Article continues below advertisement
Nicole began mocking Amber by snapping her fingers in her face, as Amber pushed the twin's arms away from her. Nicole then grabbed her hair and said, "I'm not your dog, do not do that!"
The housewives attempted to break up with fight, as Amber screamed, "This is why he won't marry your f*cking a**," referring to Nicole's relationship with Bobby.
Defending her sister, Teresa pulled Amber's hair and threw a drink at her, as Amber slapped Teresa and then began to physically fight with Nicole before being pulled away by her husband.
Watch the video here:
"I can't believe this is happening," Amber said in the confessional. "Nicole is my friend. This is my friend I loved. I have never said in a million years that she broke up a family… Melissa just completely twisted my words."
A flashback of last week's episode then played, with Amber saying, "There was cheating going on. But what I heard is that it was Nicole that broke up a family."
Article continues below advertisement
"I feel terrible," Melissa said after Amber blamed her for the fight. "I thought a conversation between us all was going to happen. Nicole was going to be able to clear her name and we could all move on. I am in shock that it went to this level."
As Bobby, Joe Gorga and Joe Giudice were talking in another room, Amber stormed in and said to Bobby, "What did I f*cking tell you? They're animals and this is why you haven't f*cking married her!"
Bobby was in complete disbelief that the two actually got into a physical altercation. As proof, Jim threw a chunk of Amber's hair on the table that was pulled out during the fight.
Jim then said, "Tell your girlfriend to keep it under control."
As Jim attempted to walk out of the room, Joe Gorga stopped him and began some drama of his own.
"You, don't let your wife talk about my wife," Joe said, referring to when Amber accused Melissa of not being supportive during her breast cancer.
Article continues below advertisement
Joe Giudice sat back and watched the drama unfold, as he said to Bobby, "I gotta stay out of this."
Teresa Aprea's husband, Rino, also got involved by saying to Jim, "You think you're a f*cking big shot… You know what you are? You don't want to hang out with us because you're an attorney and this and that? That's a jerk off move."
Jim fired back, "Just so you guys are aware, I'm not an attorney. Did I pass the bar? Absolutely. Do I practice law? No. I have no idea what you two gentleman are talking about."
When asked the real reason he didn't go out with the guys, he said in Joe Gorga's ear, "I work with the same f*cking attorney general that's prosecuting your brother-in-law you dumb f*ck."
After Joe Gorga asked, "Who's a dumb f*ck? Jim responded "you" before walking out of the room. Joe stormed after him, leaving viewers on the edge of their seats until next week.
The Real Housewives of New Jersey airs Sundays on Bravo at 8/7c.