'RHONJ' Premiere Recap: Teresa's Legal Troubles, Dina's Return & New Faces Kick Off Season Six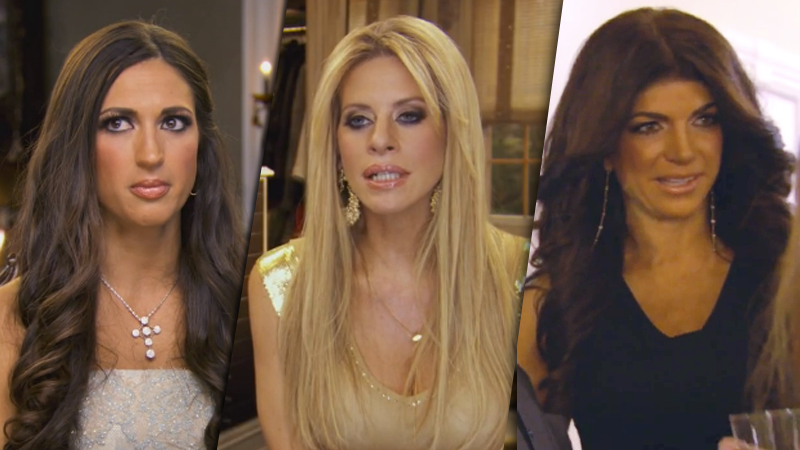 In the season six premiere of The Real Housewives of New Jersey, viewers were finally able to see the Giudice family drama unfold behind the magazine covers and court appearances, as Teresa and Joe Giudice tried to stay strong despite their fraud and tax evasion charges.
After watching a news report of Teresa and Joe's legal troubles, Melissa Jorga told her husband Joe: "We just need to let her know that we're here... what has happened between Teresa and I is ridiculous and petty. It means nothing right now with all of this."
Article continues below advertisement
Melissa then called Teresa to check up on her. "What came out today is not true," Teresa told her sister-in-law, whom she famously fought with season after season before finally putting their differences aside.
Teresa's eldest daughter, Gia, began to cry after listening to her mother's phone conversation.
"I obviously know what's going on. I'm old enough to comprehend and understand what's going on," she said.
Teresa consoled her daughter by saying, "That's what happens in life and we have to deal with it the best we know how."
While bringing their daughters to cheerleading practice, Melissa invited Teresa to the party of new girl, Amber Marchese.
"Amber is a girl I used to hang out with when I was single before I met Joe, but haven't seen her in a while. Once you get married you don't connect anymore," Melissa said.
Article continues below advertisement
Teresa agreed to attend the soirée and asked if she could bring Dina Manzo, who left during season two of the series.
"The b*tch is back and if you don't like it you can kiss my a**!" Dina said in the confessional.
The original cast member explained how her life has been a nightmare since leaving the series, as she is dealing with a divorce.
"I feel almost alone. All my friends are married with little kids. Everything that I knew is going away," Dina said. She later told her therapist, "I have no desire to move forward in any way. He has his life, I have mine and we'll meet in the bedroom!"
Meanwhile, if you had any doubts about the three castmates replacing Caroline Manzo, Jacqueline Laurita and Kathy Wakile, rest assured because the new housewives of New Jersey are already promising to bring the drunken one-liners and table-flipping drama!
Viewers were first introduced to housewife and mother-of-four, Amber, who hoped her upcoming party would help her reconnect her with former BFF Melissa.
Article continues below advertisement
"Melissa and I were friends in our twenties. We just partied our butts off," Amber said. "We both wanted to be successful, we had just different ways of going about it. I went the school way... Melissa wanted to marry money and when she married Joe it went very quick. After that Melissa just disappeared off the face of the friggen planet."
Amber's twin friends Nicole Napolitano and Teresa Aprea were introduced to viewers as Guidettes who always speak their mind with a drink in hand.
After viewers were all caught up with the housewives, out came the Louboutins and leopard-print frocks as the ladies made their way to the home of Amber.
Despite everyone else's excitement, Teresa had fears of how people would treat her regarding her legal woes.
"Other people are probably going through the same thing, but because people know who I am, I'm being judged. Hiding is the easy way out and I'll never do that," she told Dina.
Article continues below advertisement
As they walked in, all eyes were on the troubled housewife, as whispers of "Oh sh*t, look who it is!" and "I can't believe she's here!" filled the room.
Meanwhile, Amber took Melissa to the side to talk about their falling out.
"I want to build our friendship back up because we were close. Before we go forward I just want to talk about what happened to you. I kind of felt like you just disappeared," Dina said.
When Melissa said that she felt Dina disappeared as well, Amber told Melissa that she had breast cancer.
"What cancer?... You had breast cancer?" Melissa said shocked. "How was I supposed to know? No one ever called to tell me. I never spoke to any of the mutual friends of ours again. I had no way of knowing!"
Amber replied, "Because you sent a Facebook message. You said, 'If there is anything I can do let me know.'"
Article continues below advertisement
When Melissa asked if Amber still had the Facebook message, Amber said, "I went to go look for it and it was gone. I have ill feelings for you so I just want to let you know this is what I was feeling. I want to move on and understand a little bit more."
After agreeing to work on their friendship, Melissa spoke with Teresa and Dina about the awkward conversation.
"She told me that she had cancer and she cannot believe that I didn't know she had cancer. She told me that she got a Facebook message from me and then she said she deleted it and doesn't have it anymore. I don't like to be accused of things that aren't true," Melissa said.
"I know the feeling!" Teresa laughed.
The premiere ended with the Giudices coming together for a family portrait in honor of the 80th birthday of Joe's grandmother.
"You never know what the future holds, but this is something that reminds Joe and I that we are surrounded by love and we are loved," Teresa said.
After the group took the family photo, Joe gave a speech thanking his family for always being there for him. "I got to say one thing about my family, whenever anybody is in trouble… this whole group is there in a minute."
Article continues below advertisement
The speech not only brought Joe to tears, but also Gia. "You did a really good job. I love you so much," she said as she cried in his arms.
Joe's father, Frank Giudice, who passed away June 18 after collapsing in Joe and Teresa's yard, consoled his granddaughter and son by saying, "Don't worry about it my son. Don't worry about if it's ever you, or if it's the kids… you know I'll be there all the time. We did nothing wrong and now we got a lot of people against us. Don't worry about it… I wish you a hundred years."
Watch the video right here on RadarOnline.com: