'This Is Not Real': Grief-Stricken Teen Gia Giudice Tweets Of Grandpa's Sudden Death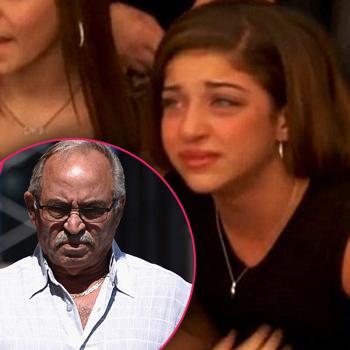 Teresa Giudice's 13-year-old daughter Gia took to Twitter in the wake of her grandfather Frank Giudice's sudden death at 63 Wednesday, writing, "this is not really happening right now, this is not real.."
The emotional
youngster, who has been seen on The Real Housewives of New Jersey, received a number of reassuring responses following the tragic incident, in which the 63-year-old father of Joe Giudice collapsed in the family yard, which an insider said came "totally out of the blue."
Article continues below advertisement
One account under the handle @LacheyLisa tweeted to Gia, "Im so sorry to hear that your Grandfather passed on. Stay close to God sweetie and remember that you will see him again in Heaven," while another under the handle @kukana1229 wrote, "oh honey i'm so sorry! just think the last thing he did was for your family:) thought and prayers to your family xoxo."
As we previously reported, the source said "Teresa arrived shortly after it happened," and that "there was basically nothing anyone could do" when the paramedics arrived.
Family rep Wendy Feldman stated that the reality star is requesting "privacy and prayers" during her family's tough time, and that "Teresa said immediately that she was so glad they got to be with him on Father's Day.
"They had a big party and he was there and it is a wonderful last memory of him."
Stay with Radar for developments in the story.