Watch Your Mouth Young Lady! Teresa Giudice Reprimands Daughter Gia For Swearing In Shorthand Slang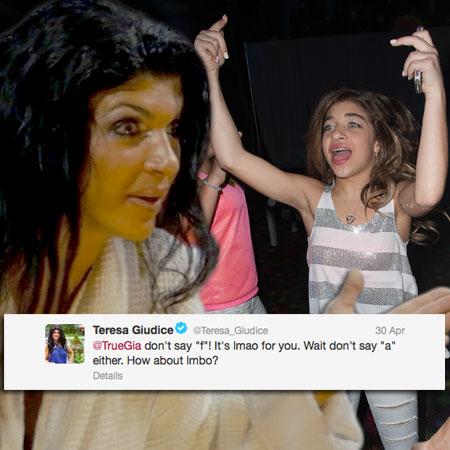 Geez, mom!
Gia Giudice is lucky her mother Teresa isn't washing her mouth out with soap!
The 12-year-old daughter of The Real Housewives of New Jersey star has her own Twitter page and even though she used shorthand slang for bad language that didn't prevent her from earning a quick rebuke from her mother.
"Omg.. My mom played softball. #lmfao," Gia wrote, using the acronym "laughing my f**king a** off."
Article continues below advertisement
While Teresa usually dotes on her little girls, she was not very happy about the swear words (letters?), and promptly reprimanded her where the whole world could see.
"Don't say "f"! It's lmao for you. Wait don't say "a" either. How about lmbo?" Teresa joked to her daughter.
In true sassy fashion, Gia completely dismissed her mom, writing: "Uh hu mom what ever floats ur boat."
Teresa, her four beautiful daughters and her hubby Juicy Joe Giudice return for season five of The Real Housewives of New Jersey on Bravo June 2.