Exclusive
Teresa Giudice Furious At Jacqueline Laurita's 'Vicious Attack' Against Her Daughter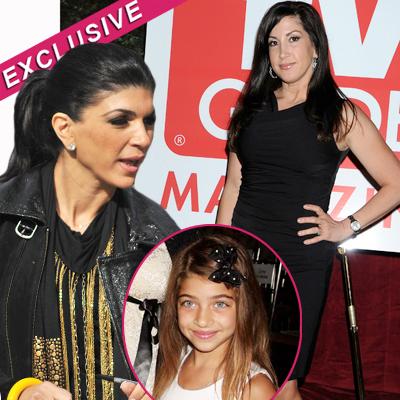 By Alexis Tereszcuk - Radar Entertainment Editor
Do NOT mess with Teresa Giudice's children!
The Real Housewives of New Jersey star is "furious" with Jacqueline Laurita following her blog where she criticized Teresa's daughter Gia Giudice RadarOnline.com has exclusively learned.
"There is huge fallout from Jacqueline's mean blog," a source close to Teresa told RadarOnline.com. "Teresa wants Jacqueline to stop attacking her daughter.
Article continues below advertisement
"She is furious that Jacqueline has dragged Gia into this nasty fight and is especially pissed that Jacqueline's Twitter followers are viciously attacking her little girl."
As RadarOnline.com previously reported, Jacqueline wrote on her blog criticizing Teresa and Gia, saying: "maybe Gia reacts the ways she does because of the way Teresa handles her (or doesn't). Teresa should pay closer attention to the way Gia is already speaking to her parents and other adults at the early age of 10, because I recognize some of that behavior and Teresa may have a long, hard road ahead of her," adding Teresa "should be careful what she insinuates about other people's parenting."
The source said the protective mama is hurt for her daughter.
"Teresa doesn't care if people attack her all they want but they crossed the line when they attack her daughter. She's only 10 years old! She doesn't want her daughter to be thrown into this mix."
Gia's Twitter page had a note from a monitor saying that she wasn't reading any of the negative notes and the next post said "Ppl taking time to bash a child on the internet need to step back and re-evaluate their lives & own human decency before judging and acting."
Article continues below advertisement
According to the source Teresa doesn't understand why people are attacking her daughter. "It is wrong to bully a little girl. Teresa has no problem putting her children on camera, but she doesn't think adults should be mean to her."
The bad blood between the women on the hit reality show stems from one feeling the source said. "Teresa thinks that everyone is jealous of her and they're stooping so low that they take it out on her kids. She hates that people are trying to hurt her daughter."