Exclusive
EXCLUSIVE: Teresa Giudice's Daughter Sings Song About Family Feud At Birthday Dinner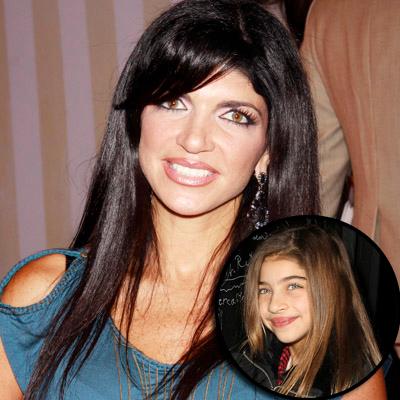 New Jersey's feistiest Housewife, Teresa Giudice, threw an Italian-style pizza party for her daughter, Milania's birthday last week, and although there were no food fights this time around, her older daughtr, Gia, actually sang a song about a recent family feud! And RadarOnline.com has all the exclusive details.
"Gia sang a song about her dad and uncle fighting and how it makes her so upset," said our source. "All the guests couldn't believe what they were hearing and were like 'are you kidding?'"
Article continues below advertisement
The Giudice-Gorga in-fighting all started after a baptism reception late last year ended in a physical brawl between Teresa's brother Joey Gorga and her husband Joe Giudice, as RadarOnline.com first revealed; the incident drew a line between the families.
EXCLUSIVE: See The Pizza Party Invite!
And to make it worse, as cameras rolled for the hit Bravo Real Housewives franchise show, Gia's relatives -- and her dad!-- didn't even stay to hear her sing her heart out.
"Gia's father, Joe, left the room and Teresa was asking him to stay," said our source. "Teresa's parents stayed in the other room too because they didn't want to be on camera."
But at least the family feud seemed to have subsided during Milania's b-day bash!
"Everyone seemed to be getting along," said our source, adding that Gia gave her uncle Joey a big hug after she finished her song.
Other Housewives who shared in the family fun at the Giudice's family-owned pizzeria in New Jersey, included Jacqueline and her husband Chris Laurita with their little boy in tow, Caroline and Albert Manzo, and the new faces of Franklin Lakes, Joey and Melissa Gorga.