EXCLUSIVE: Another 'Real Housewives' Brawl - Teresa Giudice's Husband & Brother Trade Punches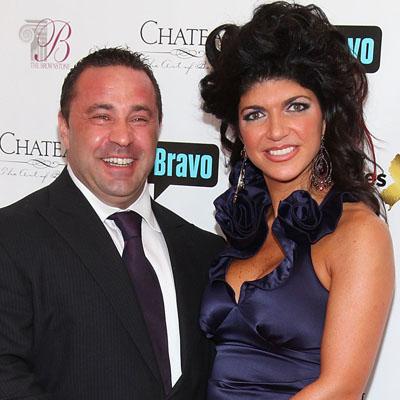 From the west coast to the east coast, the Real Housewives were fighting all over the country this weekend. Only in New Jersey, it also involved the house husbands, RadarOnline.com has learned exclusively.
EXCLUSIVE: Tamra Barney & Jeana Keough Brawl At 'Real Housewives' Party!
It all started after a christening for Teresa Giudice's nephew.
Next season's newest cast members of the Garden State franchise include Teresa brother and sister-in-law, Joey and Melissa Gorga, who hosted a christening on Sunday for their son.
Article continues below advertisement
According to a source, Teresa went to the church ceremony without her husband Joe, but following the baptism, she arrived with him and their four children in tow an hour late to The Manor restaurant in West Orange, NJ for the reception.
While cameras rolled, Teresa walked up to her brother to congratulate him and he said in an upset tone: "Now you want to congratulate me after all this time? Now you want to be nice to me? Your husband didn't even come to the church and you show up an hour late!" the source said.
Teresa responded playing dumb: "I just wanted to say hi and congratulations."
Because of a recent history of bad blood between the two siblings, a verbal argument ignited between Teresa and her brother.
And when Joe Giudice got involved a physical altercation broke out between him and Teresa's brother Joey.
A friend who attended the party said: "Once again Teresa had ruined a perfect day. She took memories from the Gorga children and family, and took a day that was not about her and making it about her. And her husband is the crazy one who got up and started to start a physical fight."
Article continues below advertisement
"There were punches, vulgarity. It was like a scene out of a movie," another source said of the fight. "Guests were also screaming at the Bravo cameras to get out of there."
There were over 100 people in attendance, and all the family members and most of the guests got involved to help break it up.
Joe Giudice yelled to some people holding him back: "I'll kill that f**king midget!" according to the source.
Even the shirt of one of the guests was ripped.
"Joey Gorga and Joe Giudice were like animals. It was complete chaos," another source told RadarOnline.com.
Teresa's father became so upset that he started sweating profusely and someone had to escort him out of the room while he was yelling in Italian to break up the fight, the source said. A concerned family member even asked Teresa if her father needed medical assistance.
Article continues below advertisement
Teresa kept telling her father: "I didn't do anything, I didn't do anything," the sources said.
"Teresa's children Gia and Gabriella were hysterically crying," said the source. "Melissa's daughter Antonia was also upset. Kids were running around crying, screaming and hiding."
"At the same time, Teresa was yelling at Melissa and Melissa's sisters got involved," the source said. "They also got into a physical altercation with Teresa, who was fighting back. Joe Giudice's father punched one of Melissa Gorga's brother-in-laws in the face and he was bleeding," the source said.
The guests were mortified by the barbaric behavior.
A person associated with The Manor confirmed to RadarOnline.com that a fight did in fact take place.
"Most of the guests were so upset that their children were traumatized that they left and took their gifts with them, and didn't even have any cake," the other source said.
Finally when Joe Giudice was pulled off of Joey Gorga, he left the restaurant and didn't come back, the source said.
Article continues below advertisement
A family friend at the party told RadarOnline.com, "Melissa is disgusted and humiliated. Her heart is broken for her son on his christening day.
"It was a special day; it was going wonderfully and perfectly and Teresa lost her mind and wanted to make it about her and does what she does best. She couldn't stand all eyes on the Gorga family. It was similar to the Posh runway show situation that aired on Bravo where she started a fight with Danielle Staub.