Exclusive
EXCLUSIVE: Teresa Giudice Working With Madonna's Designers on Children's Clothing Line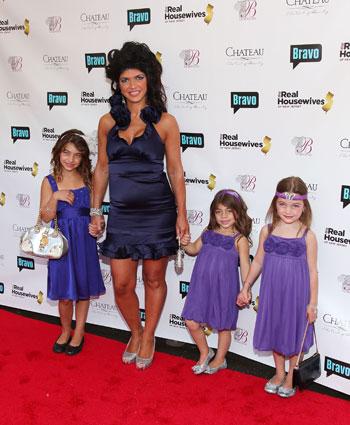 Real Housewives of New Jersey star Teresa Giudice is following in the footsteps of one of the world's most famous moms: Madonna. RadarOnline.com has learned exclusively that Teresa is close to final negotiations with the Material Girl's children's clothing line designers to launch her own girls line.
"We're talking at the moment," said Steve Lloyd, co-founder of Lipstik Girls, a California based manufacturer.
Article continues below advertisement
"We're excited about working with Teresa to develop a line."
Steve and his designer wife Lisa Barretta Lloyd famously partnered with Madonna in 2003 to create the English Roses collection inspired by her book of the same name.
According to Steve, Teresa's line will be "in the same vein" as English Roses' "classy" high-end children's line.
"We worked with Madonna and we believe we can interpret what someone wants and work with them very well to tell their vision," Steve said. "At this point, it's going to be a fantastic match. We're excited, she's excited, we're going to make clothes that girls like."
The opulent housewife is also in the works to coin her own phrase "Fabulicious," which she is trademarking and plans to use as the name of the full collection of dresses, skirts, tops, t-shirts, jeans jackets, coats, shoes, pants and pajamas. The Skinny Italian author is also trademarking the name for a cookware line, RadarOnline.com has learned.
"We haven't gone in full design mode, but it will definitely have her Teresa influence," Steve said of the clothing that will target girls 2-11 years old and sizes 2-16 and hope to be sold in high end department stores as well as boutique and specialty stores. "She will have final approval on everything. All the way through, she'll be involved."
Article continues below advertisement