Exclusive
EXCLUSIVE: NJ Housewife Danielle Staub Shoots Emotional Music Video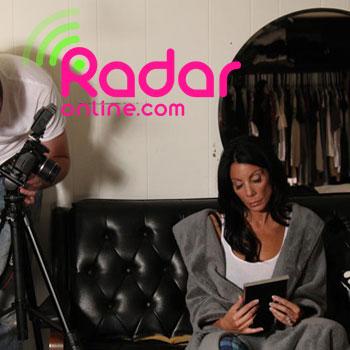 Real Housewives of New Jersey star Danielle Staub is showing a different side of her personality in her first music video for her new song Cry. RadarOnline.com has the first photo from the set and exclusive details about the shoot.
The video, which was shot on September 26, is a departure from the lighter pop fare out on the market. It was filmed on location at a woman's shelter: the Strengthen Our Sisters Domestic Violence Shelter in northern New Jersey.
Article continues below advertisement
"Danielle talked to all the women. It was a very emotional day," a source told RadarOnline.com. "She was so touched she even said she was going to send a box of things to the women at the shelter that they can all use."
"Everyone volunteered their time to put the video together for such a great cause to help end domestic violence," a source said. The video shows real women at the shelter who have been in abusive relationships. Proceeds from the song will go to causes dedicated to ending domestic violence.
Click Here For The Latest On Danielle On Her Website
One woman highlighted is a beacon of hope: she turned her life around after an abusive relationship, got her master's degree, and now works at the shelter. In the video, she puts her arm around Danielle as she makes her way to the front door and pulls Danielle's character into the shelter to help her.
"In the video there is an actor that plays Danielle's love interest and she goes through the emotions of a woman in an abusive relationship," the source explained. "These are real circumstances these women go through. In one scene, Danielle makes dinner for him and he complains and she turns to look back at him because she's afraid he's going to hit her and then she runs to lock herself in the bathroom."
Article continues below advertisement
The production company behind the video also produced the documentary "Not In My Backyard" which was filmed for seven years in underground shelters to show how voiceless victims in America live.
100 percent of the profits from the documentary and music video will go to saving domestic violence shelters, and Staub has been the biggest celebrity advocate speaking up about the epidemic. She has been going into Strengthen Our Sisters to help the women and children, the source said, adding that some of the proceeds from the digital sales of the song will also benefit domestic violence causes.