Exclusive
EXCLUSIVE INTERVIEW: 'Beverly Hills Housewives' Reunion Show The Longest 8 Hours Of Camille Grammer's Life, Says Pal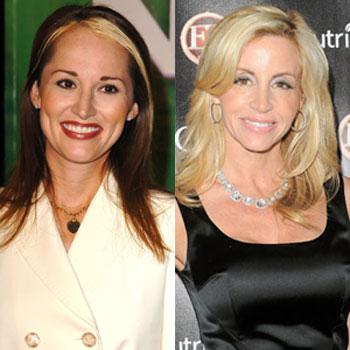 Filming the reunion show for the Real Housewives of Beverly Hills was the longest eight hours of Camille Grammer's life.
That's what she told her pal Allison DuBois, who relayed the comments to RadarOnline.com in an exclusive interview.
The show airs Tuesday night on Bravo.
Camille has not decided if she is returning to the show for a second season, although right now she's saying no.
"Camille told me she is NOT going to be doing another season of the show. Of course, that could change, but Camille has told me that she is looking forward to moving on with her life without the Housewives," DuBois told RadarOnline.com. "It's just been so much extra drama for Camille.
Article continues below advertisement
"Camille said that filming the reunion show was the longest eight hours of her life. Camille thought the filming was never going to end, eight hours seems a little long. It was extremely draining for her, emotionally."
Allison, the psychic who is the inspiration for the TV show Medium appeared on the infamous dinner party episode of The Real Housewives of Beverly Hills, and things got ugly. She tells RadarOnline.com that she feels sympathy for Kim Richards, little sister of Kyle, who sparred with Allison.
"I don't know Kim at all, and she seems to be going through a lot," Allison told us. "If I were her friend, I would encourage her to get help if she needs it. Clearly, Kim isn't the only one that needs help. I just hope the show doesn't ruin a relationship between two sisters, because at the end of the day, they are family. Kyle and Kim need to work their issues out, off camera.
Allison says that Season Two of the Housewives could focus on Kyle's marriage. "When I told Kyle at the dinner party that I saw problems in the future for her and her husband, I meant that," Allison told RadarOnline.com. "I wasn't being mean or malicious.
Article continues below advertisement
"She pushed me for a reading that night, and I told them I was off the clock and not working. When Kyle persisted, I relented and told her that her marriage was headed for some troubled waters. I think next season, viewers will see Kyle's marriage at a crossroads. Here is an opportunity for Kyle to look inwards and assess her marriage."
RELATED STORIES:
EXCLUSIVE: Kelsey Grammer Seeks To Protect Pension & Business Accounts From Camille