NJ Housewife Jacqueline Laurita Slams Teresa Giudice's Parenting Style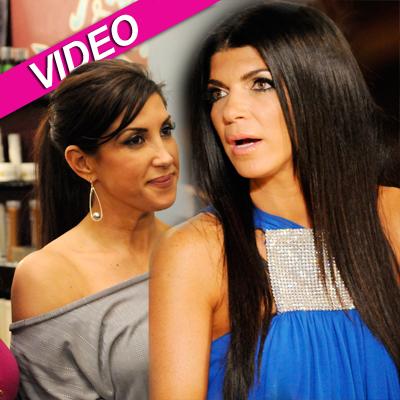 Things are getting really uncomfortable in Jersey these days.
The Real Housewives of New Jersey's Jacqueline Laurita had some pointed words for co-star Teresa Giudice in a new Bravo blog, where she razzed the controversial reality star's lax parenting style following a broadcast of the show in which Teresa's 10-year-old daughter Gia smarted off to her.
The instigating incident occurred when Jacqueline threw a field event at her house filled with activities for the show's other stars and their kids; Teresa's daughter Gia had a temper tantrum during the proceedings, and Jacqueline, in vain, tried to set the child straight.
Article continues below advertisement
"Most of us saw Gia running into the house upset about her team not winning while shouting at everyone calling them cheaters. It was a bit disturbing. Although, I couldn't help but notice Gia was the one cheating at the dunk tank game," Jacqueline wrote. "We all love Gia. I think Gia is just misguided and maybe a bit hormonal as well. It's typical for a 10-year-old to be emotional."
Jacqueline -- calling Teresa "rude, hurtful and ungrateful." for commenting she didn't really want to be there anyway -- took exception to Teresa's remarks that she's fallen short in raising her own daughter, Ashlee.
"Does she mean that I should have used HER parenting techniques and never have disciplined Ashlee and just allow her run wild like she does with her children?" she asked in her blog. "I'm confused. Her children, as adorable as they are, call her a derogatory phrase, tell their siblings to bite their mother … yet she wants to call MY child rebellious and put that on me?
"That was laughable. Buckle up, Teresa. Let's check back with each other in a few years when your children are teenagers. We will compare stories then."
MORE ON:
Jacqueline Laurita
Article continues below advertisement
Jacqueline wrote that "maybe Gia reacts the ways she does because of the way Teresa handles her (or doesn't). Teresa should pay closer attention to the way Gia is already speaking to her parents and other adults at the early age of 10, because I recognize some of that behavior and Teresa may have a long, hard road ahead of her," adding Teresa "should be careful what she insinuates about other people's parenting."