'The B*tch Is Back!' Dina Manzo's Return To The Real Housewives — Denies Getting Jacqueline Fired & Refuses To Work With Sister Caroline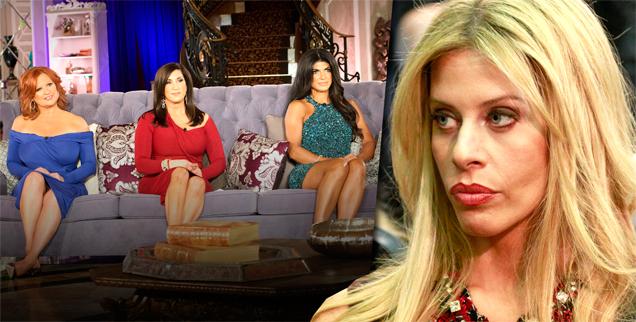 She's baaaaaaa-ack! Or as Dina Manzo says herself, "The b*tch is back!"
After quitting the Real Housewives of New Jersey in 2010, Manzo, 43, decided to go back to the Bravo reality TV show for Season 6 — but don't expect too much family drama, because her sister Caroline Manzo and sister-in-law Jacqueline Laurita won't be sharing the small screen with her.
Estranged from her family, there were reports that Dina was responsible for Laurita getting the ax, but she fully denies it.
Article continues below advertisement
"I didn't get anyone fired," she told Us Weekly.
"One of my first questions for the producers when I was invited back was, 'You're not getting rid of anyone because of me, right?' And they said, 'Absolutely not.'"
But it's a good thing that Caroline and Jacqueline will not be back for Season 6, because Dina says she would never do a show with family again.
"I will never do a reality show with family ever again," she said.
"It's just not a healthy environment."
But there's still drama even when it doesn't involve family, because Teresa Giudice and her husband Joe are both facing prison time for fraud and tax evasion charges to which they pled guilty.
"She finds relief in our friendship because I'm not asking questions about the case," Dina said.
"I don't give a sh*t about the details. I care about her and her family. When we talk, it's, 'What are the kids doing? Let's go have lunch.'"
The Real Housewives of New Jersey premieres on Bravo July 13 at 8 p.m.