Exclusive
Life's A Beach! Teresa Giudice 'Confident' She'll Escape Jail Time In September Sentencing, Insider Says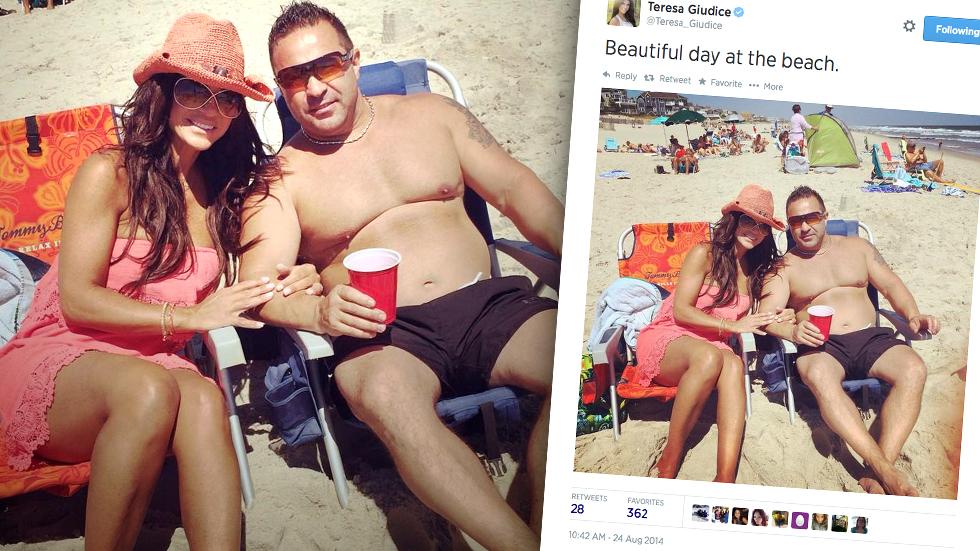 With less than a month to go until Teresa and Joe Giudice's September 23 sentencing in their bankruptcy and fraud case, the Real Housewives of New Jersey star is not exactly feeling the heat. In fact, an insider tells RadarOnline.com exclusively, she seems "confident" she will avoid serving any prison time at all!
"Teresa has been telling friends she doesn't think there is any way the judge will send her to prison because she is a mother of four girls," the insider told RadarOnline.com. "Teresa is planning on saying she just went along with whatever her husband Joe gave her to sign, and never paid attention to the details."
Article continues below advertisement
"Lawyers for the couple will ask for leniency and probation for both, with no jail time," according to the source. "Teresa is very positive that the United States Justice Department won't recommend that she go to jail either. She is very eager to review what prosecutors are asking for. Of course, the judge will have the final say."
With the sentencing looming, RadarOnline.com has learned Bravo is planning on sending cameras to the sentencing, which Teresa opposes.
"Teresa doesn't want cameras from Bravo to be at her sentencing on September 23, and has told producers of the show her thoughts. But Bravo doesn't care what Teresa wants or thinks, and they are done protecting her," a source told RadarOnline.com. "So, Bravo will absolutely send cameras and will utilize the footage for the reunion show. It's no secret that the ratings are in the gutter, and Bravo knows there will be a lot of drama during Teresa's sentencing."
Article continues below advertisement
Joe could be sentenced to 47 months in prison, and could be deported back to Italy upon completion of his punishment, with Teresa facing 44 months behind bars.
Still, Teresa "continues to live in a dreamworld, and tells anyone who will listen that she doesn't even think Joe will go to prison," the insider said. In fact, the couple were spotted looking like they didn't have a care in the world at the beach on August 24.
Said the source, "September 23 could be a true shock for her!"
Do you think the judge should show leniency? Let us know in the comments!