Exclusive
Too Boring! Real Housewives Of New Jersey Final Episodes Were Edited To 'Create More Drama'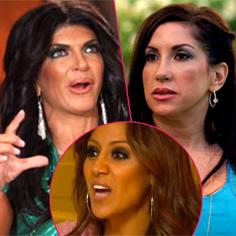 The out of sequence story lines on the Real Housewives of New Jersey this season infuriated dedicated viewers who noticed the inconsistencies and RadarOnline.com has exclusively learned why things were so disjointed – the final episodes were too boring to air so they were re-edited to "create more drama."
Even though Teresa Giudice was fighting with Melissa and Joe Gorga and Caroline Manzo was in the middle of everything, a source close to production revealed that the story lines weren't strong enough so they had to readjust what they were going to air.
Article continues below advertisement
"Seeing Teresa and Melissa fight was boring because no one was telling the truth about what had really happened so production made the decision to change what they first cut and make sure the drama was edited in."
As RadarOnline.com previously reported, Bravo has been accused of faking scenes and the production company puts in their contracts that they have the right to "fictionalize" the story lines, and the source said they had to do some creative editing this season.
"The big fight that happened in March gave producers good material, but they were scrambling to have it make sense with the relationships with all of the people."
With Johnny Karagiorgis and his wife Penny Drossos thrown into the mix, the fight with Jacqueline and Chris Laurita was the drama that would help the ratings, but after the legal charges were filed the source said everyone was scrambling.
"It was hard for producers to edit out all of the good parts of the fight, and then they had to make the episodes leading up to it make sense so they re-edited the final episodes to create more drama.
"They wanted to have a really dramatic season and so they made sure that the final episodes had the best details from everyone's interactions."
Do you like the way the season of Real Housewives of New Jersey turned out? Tell us in comments.