Exclusive
Real Housewife, Fake Scene: Leaked Text Messages Expose How Producers Staged Vicki Gunvalson's Daughter Briana's Marriage Announcement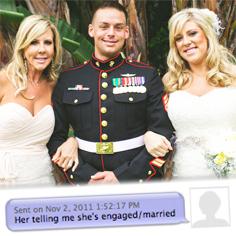 Vicki Gunvalson's nose job isn't the only fake thing on Bravo's hit reality TV show The Real Housewives of Orange County.
The outspoken insurance broker has been caught in a whopping lie, admitting that a scene from last season -- during which her daughter supposedly revealed she'd got married in Las Vegas -- was staged.
Gunvalson, 51, was shown on camera appearing to be stunned when her daughter Brianna Wolfsmith told her mother that she had secretly tied the knot with Ryan Culberson at a drive-through Las Vegas chapel.
Article continues below advertisement
"This is your son-in-law," Brianna told her "shocked" mother over dinner.
"So you didn't ask me for her hand in marriage? You didn't think that was important for me to know?" scowled the Bravolebrity, in response.
But in reality, as RadarOnline.com has uncovered, Gunvalson was brazenly lying on camera!
Watch the phony scene below.
In a text message exchange between Gunvalson and her ex-lover Brooks Ayers from 2011, provided to Radar, the star laid bare how the reality television sausage is made, confessing that she was preparing to film that scene -- even though she already knew her daughter was married!
"What are y'all filming," Ayers asked Gunvalson on November 2 at 1.40pm.
"Her telling me she's engaged/married," Gunvalson responded.
Ayers went on to tell his girlfriend that he was "glad" Brianna had "decided to film with you tonight."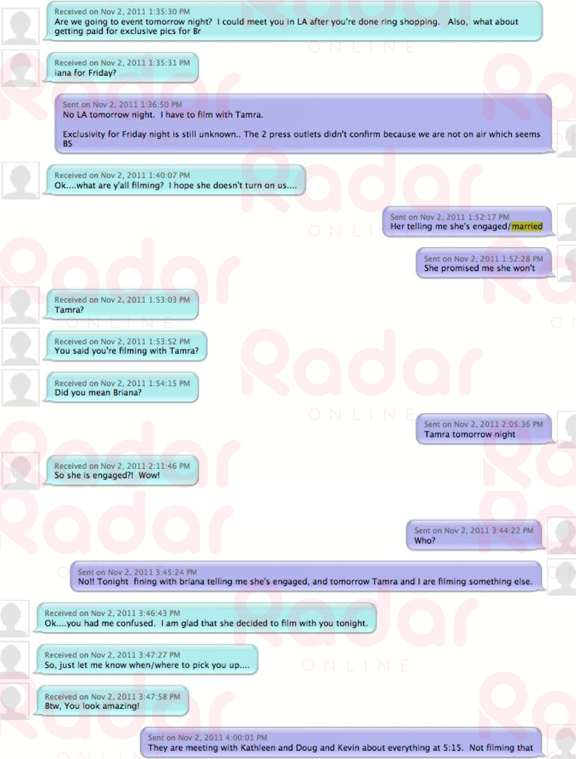 The revelation also casts doubt on Gunvalson's prior statement that the "show is real and I am always real. It is my reality."
Speaking to RadarOnline.com in late June, the Bravo star said she was "disappointed that someone would say something negative about the show" -- that someone being Ayers, who had used a court filing to suggest storylines on the show had been staged.
Article continues below advertisement
That car scene was filmed at a soundstage in Los Angeles!
Russell Jay, a producer on Keeping Up With the Kardashians, later testified under oath that there were at least two scenes that were "scripted, reshot or edited" to make Kim's ex-husband Kris Humphries, 28, look like the villain.