Exclusive
J. Lo 'Reality Show' South Beach Tow Busted Faking Scenes: Watch The Video!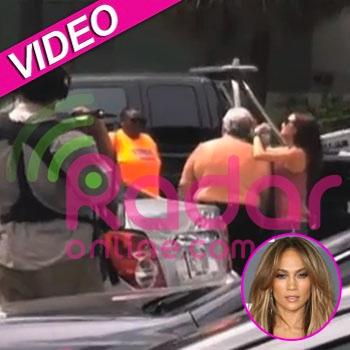 Article continues below advertisement
Lopez is the executive producer of the show, which drew big ratings for its network in Season One (up 37 percent over the net's primetime average). And its website makes no mention of staged or faked scenes like the one you see here.
The not-so-original setup features an older man who flips out and attacks the driver from Tremont Tow who is taking his car. And by the time the scene is cut for TV there will, of course, be no suggestion that it's fake. But as our video shows, the man and tow truck driver patiently wait next to each other until the show is ready to film.
A member of the production team then applies a wig to the shirtless man as the driver he is about to attack calmly stands next to him. Check out the 1:15 mark of the video after the director yells "three, two, one" and the action begins with the driver pushing the older man and the "fight" erupts.
The driver appears violent and knocks the man's wig to the ground before "towing" his car from the lot. (Oh, about that...the truck pulled out without towing the car, and the enraged man and tow truck driver chatted and joked with each other.)
Article continues below advertisement
Many in the small crowd at Collins & 12th Street outwardly laughed and the crew refused to comment when asked about the show faking scenes.
RadarOnline.com approached truTV with the eyewitness report of faked scenes and in what may be a first for a reality show a spokesperson admitted – well, almost admitted -- that it is staged.
"South Beach Tow features real people and is based on real situations. Due to production needs, some scenes are reenacted."