Exclusive
Real Housewives, Fake Scenes: New York Cast Caught On Camera Staging Scenes For Show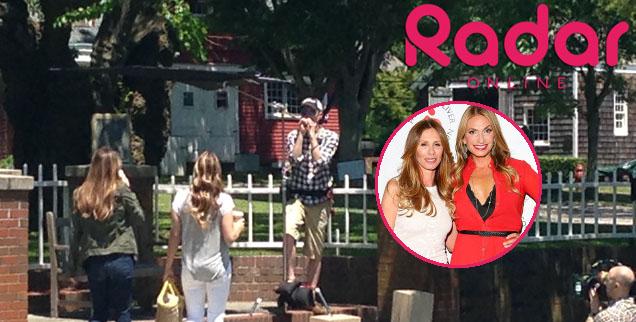 How real is reality? Not that real, at least it wasn't in Southampton, NY, at the weekend when Real Housewives of New York stars Carole Radziwill and Heather Thomson were busted filming a staged scene for the upcoming season six.
Listen! 'RHOP' star Wendy Osefo breaks down the "most intense fight in the show's history" in under 2 minutes.
As these exclusive RadarOnline.com photos show, the costars were brazenly like actors, reacting to crew instructions to walk and talk on cue during a phony scene recorded on Meeting House Lane on June 15.
Article continues below advertisement
"It was like something you would see on the set of a movie or scripted television show," an eyewitness told Radar.
"Carole and Heather stood on Meeting House Lane and waited for the crew to call 'rolling,' before walking toward the camera and sitting on a park bench. They even shot the scene twice!"
Before Carole and Heather began talking to each other on the bench, the three cameras stopped and repositioned, the onlooker said.
The photos also show how the crew had set up a large light reflector and positioned it to make Carole and Heather look their best during their dialogue scene.
"It was extremely contrived and set-up," the source said.
"It lacked all spontaneity and any semblance of reality. I joked to the people that I was with that The Real Housewives of New York are the unreal Housewives of New York!"
Later, Heather was seen sitting and talking to two men at 75 Main Street, a popular restaurant, as onlookers mingled nearby.
Article continues below advertisement
"As soon as the cameras stopped rolling, she was up and out of there," the eyewitness said.
There was little fanfare about the Housewives in the popular village -- a magnet for celebrities and socialites -- and when our source asked what was being filmed, a member of the Real Housewives of New York crew was so coy he would only describe the scenes as a "documentary."
And the staffer also insisted to our eyewitness that he could not shoot photos, despite being on a public street.
"I was told by the crew member that the Housewives don't like to be photographed but I can tell you the real reason was probably because it was so scripted and staged that photos and videos would reveal that," the source said.
The staged 'RHONY' scenes have again blurred the lines between what's real on reality television.
As we previously exposed, cast and crew for Jennifer Lopez's South Beach Tow were caught on camera in June last year doing what skeptical fans had long suggested, while Kim Kardashian also once shot a scene with her momager Kris Jenner about wanting a divorce -- after she had already filed.
That car scene was filmed at a soundstage in Los Angeles!
Russell Jay, a producer on Keeping Up With the Kardashians, later testified under oath that there were at least two scenes that were "scripted, reshot or edited" to make Kim's ex-husband Kris Humphries, 28, look like the villain.