Exclusive
Exposed! Brooks Ayers Admits Vicki Gunvalson Negotiated Housewives Contract To Include Staged Storyline And 'Product Integration'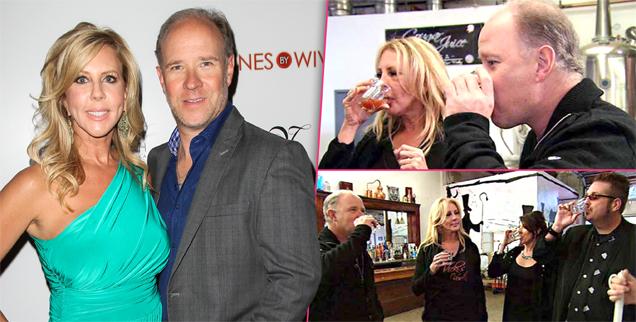 Here's another reality check for those questioning just how real is reality television: Brooks Ayers has outed the latest episode of the Real Housewives of Orange County as being phony, RadarOnline.com has exclusively learned.
Vicki Gunvalson's ex-boyfriend admitted to a Las Vegas court this week that his one-time lover negotiated her season eight contract to appear on the Bravo show to include her vodka product -- scenes which coincidently appeared on the show this past week.
Article continues below advertisement
In a July 23 filing lodged in the United States District Court, obtained exclusively by Radar, Ayers revealed how he attended a meeting on June 3, 2012, in Las Vegas, during which Vicki "specifically agreed, represented and promised that Vicki would negotiate her season 8 contract (on the Real Housewives) to include VV (Vicki's Vodka) as part of the negotiations and product integration."
That product placement was brashly on show for fans to see during the most recent episode of the hit show when Brooks and Vicki travelled to California's Napa Valley to sample her new orange and bacon flavored vodkas.
During the staged scenes, Vicki proudly talked about her new business venture and Brooks declared the pair were "going to make a lot of money."
Brooks' confession about the staged storyline was contained his response to a lawsuit filed against him relating to the vodka business, alleging he breached contract, failed to live up to good faith dealings, misrepresented himself and conspired to unjustly enrich himself and Gunvalson, who he dated on-and-off since 2011 in the wake of her divorce to ex-husband Donn.