Exclusive
Real Housewife Vicki Gunvalson And Boyfriend Sued For Fraud, Accused Of Duping Business Partner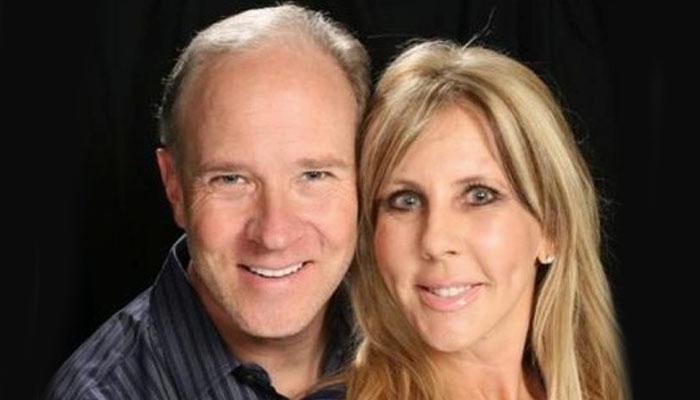 Real Housewife of Orange County star Vicki Gunvalson and her boyfriend Brooks Ayers are facing a huge lawsuit in Las Vegas, accusing them of stiffing a business partner to the tune of at least $250,000 over the reality star's much-touted vodka business.
In court documents filed on Friday, obtained exclusively by RadarOnline.com, professional poker player Robert Williamson III alleges Gunvalson, 51, breached contract, committed fraud, failed to live up to good faith dealings, misrepresented herself and conspired to unjustly enrich herself and partner Ayers, who she went public with in 2011 in the wake of her divorce. He is named as a co-defendant in the suit.
Article continues below advertisement
It's claimed Gunvalson gifted 16.67 percent of a business, named Vicki's Vodka, which was started in 2012, to Ayers without the knowledge of her business partner Williamson.
Ayers then sold it to Williamson in an act of fraud, it's alleged.
"He claimed to need the money for unpaid IRS and child support obligations in order to prevent his imminently going to jail for non-payment," the lawsuit says.
"An agreement was reached, while RW III Williamson was in Clark County, Nevada, for the purchase of Brooks' interest for the sum of $50,000.00 which is memorialized in writing in an agreement dated March 6, 2013."
But then, it's alleged, "it was learned later that Brooks and Vicki had used this purchase as a way to obtain additional money from RW III in bad faith without the intent to honor the intent of the transaction."
According to her one-time business partner, Gunvalson later "demanded" that ownership be returned to a 50-50 split between them — despite the existence of a contract that the Bravo star appeared to acknowledge by way of her signature.
Article continues below advertisement
Interesting detail: the lawsuit reveals how Gunvalson allegedly promised to negotiate her season eight contract to star on RHOOC to include Vicki's Vodka as a part of the show — even hatching a plan to appear on Andy Cohen's show, Watch What Happens Live, as the bartender serving the vodka.
The suit claims: "Based upon the representations, agreements and promises of Vicki and Brooks, RW III moved forward and expended substantial funds and made commitments in excess of $250,000.00."
He is now seeking hundreds of thousands of dollars in damages, interest and attorneys fees.