Exclusive
Vicki Gunvalson's Boyfriend Brooks Ayers Plans To Sue ABC Over 'Deadbeat Dad' Allegations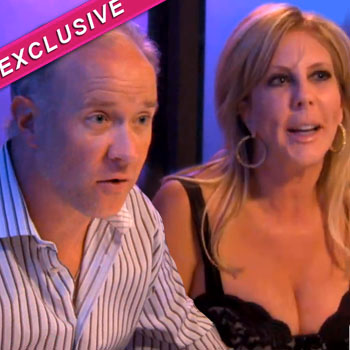 Article continues below advertisement
"On July 11, Mr. Rufus-Isaacs wrote to ABC demanding a retraction of the story and threatening to bring a lawsuit seeking damages for the injury to Mr. Ayers' reputation," said the attorneys in a legal letter obtained by RadarOnline.com.
The statement contained a comment from Brooks claiming: "ABC never gave me a reasonable opportunity to tell my side, and therefore the story, which is based on an interview with an ex-girlfriend, contains many mistakes. I am outraged that ABC should behave in this manner."
In the controversial on-air interview, Catanzarite said: "He has not supported his child. He bailed on the hospital bill, the pediatrician bill, and left me with all of it."
The 41-year-old model and hair salon owner from Indianapolis met Ayers on a golf trip in 2007 and the couple now have a three-year-old son together, even though he had claimed he had a vasectomy, she said.
The new lawsuit is not the first time that Ayer's attorney has embarked on a legal battle against ABC, as Mr. Rufus-Isaacs recently filed a defamation lawsuit against ABC on behalf of another male victim of a 20/20 story.
Article continues below advertisement
"ABC is making a habit of mounting witch hunts against men whom 20/20 unfairly brands liars, cheaters and deadbeats on national television without having done a proper investigation or interviewing the men in question," said Rufus-Isaacs in the statement. "This is irresponsible journalism from a once respected icon of television news."
While the legal drama is sure to put pressure on any relationship, a close friend of Vicki's said the couple are still together and the Real Housewife pledged her official support to him with an inspirational Facebook status.
"Everyone comes with a little baggage. Find someone who loves you enough to unpack," she wrote.
Meanwhile, Gunvalson has fallen out with some of her fellow Housewives over her relationship but as RadarOnline.com previously reported, not all of Vicki's costars are anti-Ayers, and Heather Dubrow stuck up for him during Andy Cohen's Watch What Happens Live Tuesday night when asked by a caller what she thought of the ABC special.