Exclusive
Vicki Gunvalson Promises The Real Housewives Reunion 'Will Be Full Of Surprises!'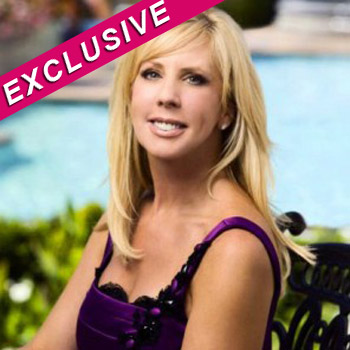 Article continues below advertisement
Gunvalson went on to clear up some of the speculation surrounding her recent explosive fall out with costar and former best friend Tamra Barney over Ayers.
"There is a lot that's been said in the media that simply isn't true. I appreciate all the fans who've sent me kind words of support, and while I can understand that people may be angry or confused by what the media has told them, I want my fans to know that I am strong, and smart and love my family very much," Gunvalson revealed.
"To any detractors out there — you only see one side of the media story and the truth will soon be told."
When it comes to the main man in her life, Vicki is somewhat coy about Ayers.
"I can't really talk about Brooks — and as all of you know we are just dating and live separately. Brooks and his attorney are currently responding to the recent media story," she explained, referring to accusations by his ex-girlfriend Nicolette Catanzarite that he is a dead-beat dad and not paid support for their three-year-old son.
Article continues below advertisement
"Stay tuned. I am, as always focused on my family and my career."
Gunvalson pledged, "I send my love and my best wishes for each and everyone of you to have a safe, enjoyable summer. I will be hard at work at Coto (Insurance) -- and on my Personal Appearance Tour."
The premiere of the two-part Real Housewives of Orange County reunion show airs on Bravo on Tuesday, July 10 at 8 p.m., with the conclusion on Monday, July 16 at 8 p.m.