Vicki Gunvalson Slams Tamra Barney Over Brooks Ayers Criticism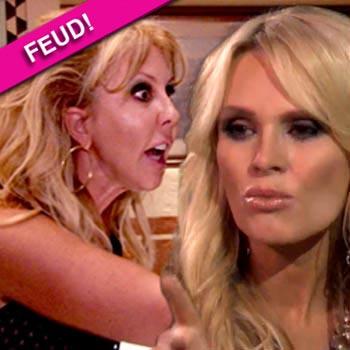 Article continues below advertisement
But more damningly, she also paints Tamra as a sociopathic bully who picks off the reality show protagonists one-by-one.
Vicki writes: "It seems like from season to season Tamra targets who she is going to go after, and unfortunately this year it was Alexis, Brooks, and myself.
"It makes me sad because I have been so supportive and happy for her and Eddie. I just had hoped she would have been the same for Brooks and I. The four of us had gone to Cabo to celebrate Eddie's birthday at the end of March 2011, and we spent a lot of time together.
"We spent many couple date nights together and had even planned on taking more vacations together. Everything was fine with our relationships, until suddenly she became a different person towards Brooks."
Vicki goes on to comment on Tamra's teary reconciliation with Jeana Keough, and brands her a hypocrite!
"I also believe Tamra should not have chosen Heather's party to replay her drama with the wine episode with Jeana," Vicki writes. "Remember why Tamra was mad at Jeana last year? To refresh your memory, it was because Jeana was getting involved in Tamra and Simon's marriage and 'butting in.' Hmmm . . . isn't that what she has been doing with Brooks and I?"
MORE ON:
hollywood happenings
Article continues below advertisement
Oddly, Vicki then choses to promote the former friends' wine business together. She insists: "I'm so excited that the Wines by Wives memberships are quickly growing.
"It's a great way to get two bottles of wines shipped to your home monthly which are chosen, tasted and picked out by Tamra and myself. Although Tamra and I may be going through some 'hiccups' with our friendship, we are completely focused on our company."