From Wine To Whine! Tamra Barney And Jeana Keough Cry, Kiss And Make Up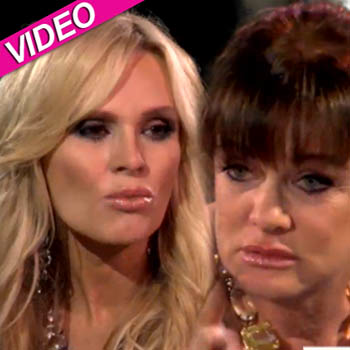 Article continues below advertisement
"I was just so frustrated with what your mom was doing," explained Tamra to Kara at co-star Heather Dubrow's swanky party. "I was so hurt in my life and in such a black place. Your mom was constantly talking about my life."
As RadarOnline.com previously reported, the wild brawl between the duo happened back in October 2010 at Vicki Gunvalson's house after Tamra confronted Jeana over an objectionable interview concerning Tamra's split from then-husband Simon Barney.
While trying to explain her alcohol-flinging actions, the blonde divorcee burst into tears, asking, "Do you understand how hard it is for me to walk away from a marriage because sometimes things are not meant to be?"
Kara diplomatically tries to get her to "have a healthy anger," rather than being upset but Barney doesn't back down however, and sobs, "For her to go on the record and say such horrible things about me as if I hated this man (Simon), if I was a horrible wife to him, was very hurtful."
MORE ON:
hollywood happenings
Article continues below advertisement
Jeana then not-too-subtly intercedes and interrupts the pair mid-chat. "I miss our families being friends," gushes Tamra. "My kids love you, Jeana.
"I'm very sorry that I took it out on you Jeana and I know you didn't probably didn't mean the things you said … I was just going through a very hard time in my life."
Jeana accepts the heartfelt and tearful apology, telling her friend, "It's OK, you had a tough time, I forgave you immediately."