Vicki Gunvalson Explodes At Tamra Barney Over Boyfriend Brooks Ayers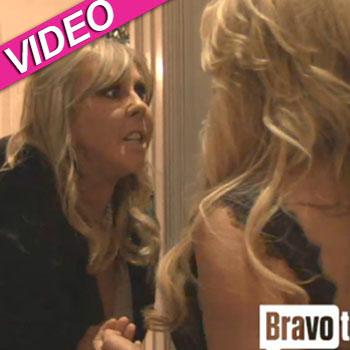 Article continues below advertisement
"She's not the Tamra that I used to know six months or a year ago," Vicki tells the Bravo cameras after the cat fight. "Maybe she doesn't need me anymore, she's going to be sorry."
In the heated and explosive interaction, Vicki tells Tamra to call her tomorrow "when she's not drinking," then goes on to verbally attack her.
"It's disgusting how you talk to me in front of people, it's disgusting! You're not my friend," Gunvalson yells like a crazy harpy as Tamra trots calmly behind her.
"No matter what, you don't talk that way to me or him (pointing to boyfriend Brooks Ayers) - ever!
"You're supposed to be my friend, my soul mate, my sister! That means you have respect for the man I love. I want this man and you spoke terrible to him."
As for Tamra's side of the story, she bluntly explained off-camera: "Your boyfriend starts whispering in your ear trying to instigate a fight between us, you side with him and I'm nuts? F**k you."
Article continues below advertisement