Orange County Housewives Can't Take A Vacation From Drama, Even In Costa Rica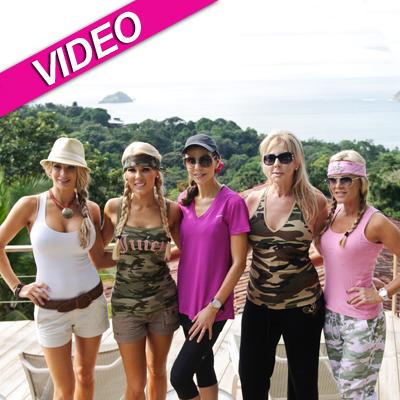 WARNING: Video Contains Explicit Language
The Real Housewives of Orange County took a break from the land of Mickey and Minnie on Tuesday's episode, but all was not R&R, as their trip to Costa Rica wound up setting the stage for a few tropical tantrums.
Here's how it all went down:
On the way to their resort, Vicki Gunvalson egged on a filthy version of the alphabet game, surprising some of her peers with her crudeness.
Article continues below advertisement
Later on, when the girls went zip-lining, Vicki's bizarre behavior annoyed her fellow housewives, as Gretchen Rossi called her a "wack-a-doodle."
Vicki's eccentricities most irritated castmate Tamra Barney, especially when Vicki acted offended when Tamra made a sexual reference akin to the ones Vicki was joking about during the car ride.
Tamra, in retort, called Vicki a "hypocrite" and told her, "You always make up your own rules to life!"
"Say you're sorry!" Vicki commanded Tamra, who bellowed, "Someone get Vicki her meds!"
Later on, a dinner set the stage for Alexis Bellino to argue with her castmates, as they picked apart her flaws, calling her pretentious and materialistic.
She said in her defense, "It's no one's place to judge … you need to look in the mirror!"
Watch the video on RadarOnline.com (WARNING: Graphic Language)
The Real Housewives of Orange County airs Tuesdays on Bravo at 9/8c.