Mother Knows Best? Vicki Gunvalson & Daughter Get In Screaming Match Over Men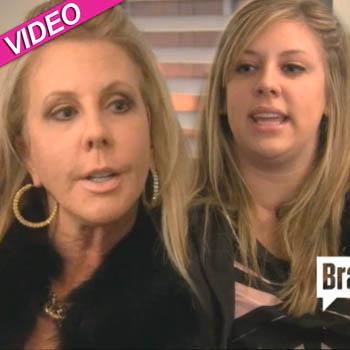 Article continues below advertisement
"I'm just concerned that things are moving too fast, too early," Briana tells her mom about her relationship with deadbeat dad Brooks Ayers.
"You're not even divorced yet. You've been married since you were 19. You've never been alone to discover what it is you really want. I'm afraid you're lonely so you're just latching on to the first person that's giving you a lot of attention."
Vicki admits that is a valid point but says that she has real feelings for Brooks. "I like him and I love him," she says, but turns the argument around to her daughter and her relationship (now marriage) to war veteren Ryan, and that is when things get ugly.
Vicki says that she isn't divorced yet because she's fighting with her last husband, Don Gunvalson, over finances.
"It may take a couple years to get divorced because guess what? Don wants spousal support and I'm doing everything in my power not to give him spousal support. And you should be worried about that!" She says.
That doesn't deter Briana from telling her mother that she's rushing things, and Vicki gets personally insulting, telling Briana she didn't approve of her dating Ryan when he was married (a fact she claims she read on the internet), which Briana denies.
Article continues below advertisement
Love On The Rocks! Brooks Ayers 'Totally Over' Vicki Gunvalson's Drama
Orange County Housewife Lynne Curtin Splits From Husband!
Vicki Gunvalson On Daughter's Secret Wedding: 'I Was So Confused And Sad'