Exclusive
Love On The Rocks! Brooks Ayers 'Totally Over' Vicki Gunvalson's Drama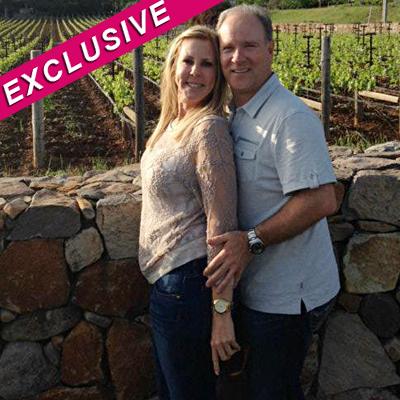 Is outspoken reality star Vicki Gunvalson heading for heartbreak?
Seems that way, as a well placed source tells RadarOnline.com exclusively that her relationship with current beau Brooks Ayers is deteriorating by the day.
"Brooks is totally at the point of dumping Vicki," the source says. "Problem is, he really enjoys all the fame and attention that goes with dating her, so looks like he will be hanging on for a little longer to milk it for all it's worth.
Article continues below advertisement
"He recently relocated to Orange County to be closer to her and that's proven to be a complete disaster. He says he feels constantly irritated and annoyed by her and finds her possessive and controlling.
"But, he loves being in the spotlight and really wants more fame for himself, and let's face it, he's not going to get that if he splits up with her right now."
An eyewitness, who attended Tuesday night's Wines by Wives event on Tuesday night, which Brooks and Vicki were both at, tells RadarOnline.com that the couple looked far from being love's young dream.
"They didn't arrive together," the source says. "Vicki made some grand entrance in a Bentley while Brooks stood around in the crowd waiting for her. Then they were hardly together all night.
"Vicki stayed in one corner pretty much all of the night, holding court, while Brooks worked the room like a shark looking for his prey.
"I saw Brooks hitting on several women and he seemed to be using pretty much the same old chat up line with all of them. A couple of the women spoke to me later and commented on how creepy he was.
Article continues below advertisement
"Then, later in the night, Brooks told a friend of mine that he was sick of all of Vicki's bulls**t and that he was totally over her drama.
"I really don't see these two lasting much longer."
As RadarOnline.com previously reported, Ayers hasn't been winning many fans amongst Gunvalson's Real Housewives of Orange County co-stars since the two went public with their relationship last year.
However, Vicki recently defended her man, insisting that they will be together, no matter what.