Vicki Gunvalson Defends Boyfriend Brooks Ayers 'He's The Man I Love And He's Not Going Anywhere'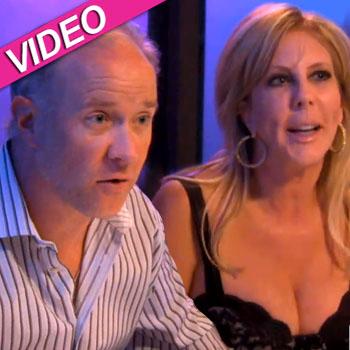 By Debbie Emery - Radar Reporter
Real Housewives of Orange County star Vicki Gunvalson didn't waste much time after her divorce before she jumped back in the dating pool, but boyfriend Brooks Ayers isn't winning any fans among her costars, and RadarOnline.com has a sneak peek at his latest strange behavior.
During a group dinner in an upcoming episode of the Bravo reality show Brooks tells his fellow diners how he sends out an "affirmation of the day," via e-mail.
Article continues below advertisement
"Man tells woman 'You mean the world to me and I want to send it to the world,'" he announced to the confused group. "Woman tells man, 'Then shout it to the world,' man leans over to the woman and whispers in her ear, 'I love you.'"
Brooks looked like he expected a big reaction from the rest of the Housewives, but instead he was met with confused stares and stunned silence.
"I think Brooks is a really nice guy, but I feel like half of what he says is bulls**t," said Tamra Barney. "I feel like he's just saying things that sound good, it's weird."
"Don't tell her the flowery ones," she advises Brooks, "She's much more to the point, just tell her 'I love you!'"
However, her friends wonderment at Ayers' monologue isn't going to make Vicki change her mind about her new flame.
"I feel a lot of people are questioning why I like Brooks, and I don't give a s**t, I don't care if they like Brooks or not. He's the man I love and he's not going anywhere," she affirmed.