Tamra Barney In Tears Over Divorce, 'It's Sad To Walk Away, You Feel Like A Failure'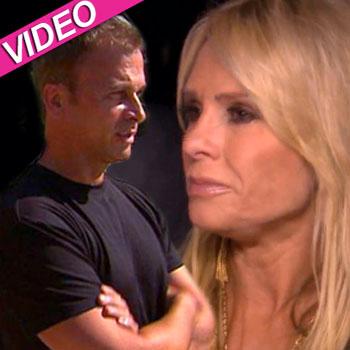 Article continues below advertisement
As RadarOnline.com previously reported, Tamra's husband, Simon Barney, filed for divorce in January 2010, charging Tamra with infidelity.
In the bombshell divorce papers Simon wrote: "Petitioner contends that Respondent has been verbally abusive and has committed acts of disloyalty and infidelity."
But, despite the obvious bad blood between the former couple, which includes her filing for a restraining order against Simon, Tamra is still finding it hard to let go of their relationship.
"When you think about marriage… your kids, your life, your wedding day… and when you sign the divorce papers it's all over, it's all done," she laments.
"I think whether your marriage works or not it's sad to walk away from something, you feel like a failure. I've been with Simon for fifteen years, that's a big chunk of my life and to know that it's all over by signing these papers is difficult."
The beautiful blonde mother-of-four goes on to blame herself for the breakdown of their marriage.
Article continues below advertisement
"It's hard when you have little kids not to take all the blame as a parent because you're devastating their lives," she says. "I just feel like a failure, as a mother it just sucks so bad."
Tamra and Simon have three children together, Sidney, 11, Spencer, 10, and Sophia, 5. She also has a 24-year-old son, Ryan, from a previous relationship.
Meanwhile, despite her divorce reservations, twice married Tamra is clearly ready to move on. As RadarOnline.com previously reported, she recently became engaged to her boyfriend, Eddie Judge.