Tamra Barney Breaks Down Sobbing As Divorce Is Finalized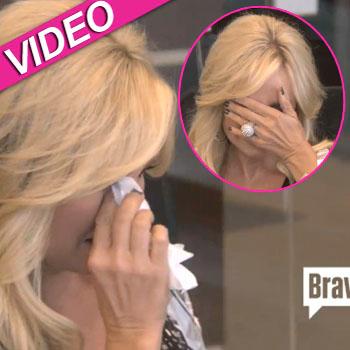 Article continues below advertisement
Tamra and Simon called it quits after he accused her of cheating, and initially she's happy about the final papers being signed.
"I really want to move forward and stop dealing with attorneys. I just want it to be over with," she says.
That happiness doesn't last long though; even as her now fiancé Eddie Judge tells her they're going to celebrate once she signs the papers.
As Tamra waits for her attorney, the severity of the situation sinks in and she begins to sob.
"I'm overwhelmed with just horrible feelings," she says as she cries. "I've let my kids down and I've split this family up."
Check out the video of Tamra's emotional breakdown as her marriage is finally over on the upcoming episode of the Real Housewives of Orange County Tuesday on Bravo at 9/8c.
In the meantime, catch a sneak peek below:
RELATED STORIES:
Tamra Barney In Tears Over Divorce, 'It's Sad To Walk Away, You Feel Like A Failure'