Brooks Ayers Reassures Vicki Gunvalson He's No Opportunist: 'I'm Not After Your Money!'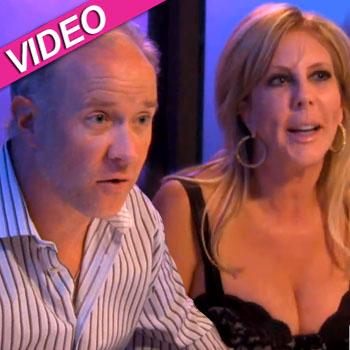 Article continues below advertisement
Last week saw Briana tell her mother she'd changed as she reeled off evidence of Brooks' unsuitability, such as his DUI and lack of care for his "four children by three different women."
But in the new clip, Brooks appears as a paragon of thoughtfulness when he "surprises" Vicki at work with breakfast. "Nobody has brought me coffee before," she tells him before recounting her recent argument with her only daughter.
"I can't believe she was so disrespectful," she tells Brooks. "I may not be perfect as a human being but I do believe I am a perfect mother."
Vicki goes on to tell Brooks she believes that Briana's anger is really about her father issues, towards her biological dad Mike and Vicki's estranged husband, Don.
"I would give everything to have my baby back," she sobs to Brooks.
Her lover responds by looking at the positives and tells Vicki she should be pleased that Briana feels she can be truthful with her mother, because it must be "her truth."
Article continues below advertisement
He starts to tell Vicki that her daughter is "obviously strong-willed, truthful and well educated," but Vicki interrupts him to say that Briana branded him "an opportunist."
Brooks clearly immediately regrets his words, and slowly tells Vicki: "I'm not after your money, I'm not after your assets, I just want your love."
Vicki seems placated by this statement but as RadarOnline.com previously reported, Brooks is already at the point of dumping Vicki.
A well placed source revealed: "Brooks is totally at the point of dumping Vicki, problem is, he really enjoys all the fame and attention that goes with dating her, so looks like he will be hanging on for a little longer to milk it for all it's worth."
Real Housewives of Orange County airs Tuesdays 9/8c on Bravo.
In the meantime, catch the sneak peek of the heart-to-heart below:
RELATED STORIES:
Mother Knows Best? Vicki Gunvalson & Daughter Get In Screaming Match Over Men