Vicki Gunvalson Makes Boyfriend Brooks Ayers Fix His Teeth!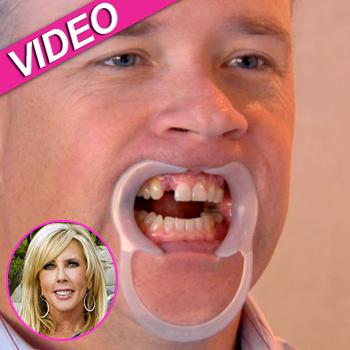 Article continues below advertisement
And, even the dentist gets in on the act. "Vicki wants you to look the part as an Orange County resident," he tells Brooks.
Vicki does defend her boyfriend though, even against her daughter Briana, who has been very vocal about her disapproval of her mom dating the "deadbeat dad."
"I really can't handle any more attacks on Brooks, does everybody want me to break up with him will that make everybody happy? And then I'll be sad," Vicki laments.
She goes on to say that she thinks Brooks is cute, but that he has to replace the missing tooth.
"It's humpty dumpty putting back together again!" She quips.
Vicki also says that despite being a deadbeat dad, Brooks isn't with her for her money.
"There are some rumors going around that Brooks is taking advantage of me financially. They're wrong. I'm not stupid; I know what I'm doing." She insists.
And, Vicki vows that she and Brooks are made for each other. "I accept Brooks for all of his flaws just the way he does me. I finally found a good man I just want people to be happy for me," she says.