OC Housewives Hold Pretentious Intervention, Accuse Alexis Bellino Of Flaunting Wealth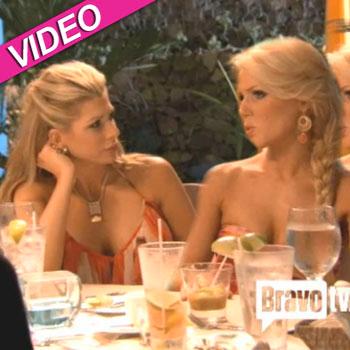 Article continues below advertisement
"I gave you the example about the car thing. I had had asked you, 'Oh when did you get the Bentley?' and you were like, 'Oh that was so two months ago. Well we do have an eight-car garage.'
"I'm your friend and I know where your heart is but to someone like Heather or Tamra that really don't know you, it sounds very pretentious."
Then Vicki chimed in that there has been "many, many times when I feel beneath you and I probably have more money than you do."
"I'm just different because I'm a financial planner so I look at money so different than 99 percent of the world. So I don't care if I have eight cars, 10 cars, one car. I would never buy a Phantom and a Bentley," Vicki said.
"I'd put the money in the bank and keep it conservative and get to a place of peace in retirement. It's not about the stuff."
Alexis then tried to defend herself by saying that her husband got "good deals" on the cars and likes buying and selling cars and instead of keeping the money in the bank they decided to spend the cash so they can enjoy it.
Article continues below advertisement
"It's no one's place to judge what you have or what you like to spend your money on," Alexis fired back at Tamra.
"You're coming into the jungle with a Louis Vuitton handbag so don't sit here and tell me, 'You need to fix that about you. Who does that?' when you should look in the mirror."
The Real Housewives of Orange County airs Tuesday on Bravo at 9/8c.
RELATED STORIES:
Brooks Ayers Reassures Vicki Gunvalson He's No Opportunist: 'I'm Not After Your Money!'